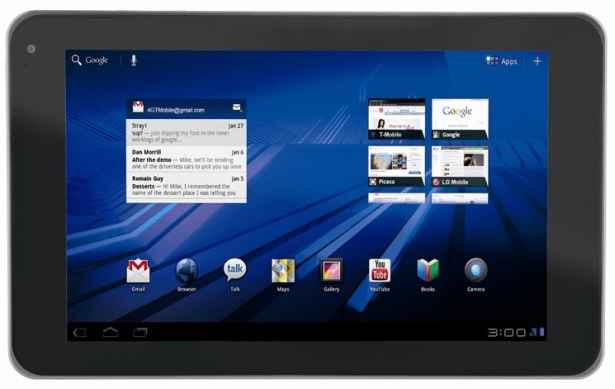 Major U.S carrier T-Mobile and LG have finally released more information about their upcoming G-Slate tablet offering, a device that stayed under covers for the tablet-flooded CES 2011. The LG G-Slate now looks like it might take the cake for the most powerful consumer-grade tablet yet, outshining the Honeycomb-based Motorola Xoom.
Also based on the tablet-specific Android Honeycomb (3.0), the LG G-Slate features Nvidia's Tegra 2 dual-core SoC processor as its processing and graphics power, a 8.9-inch display (resolution unknown), 32GB of internal storage, two stereoscopic rear video cameras meant for 1080p 3D video capture, a 2MP front facing camera for video chat, 3G and Wi-Fi connectivity, as well as a gyroscope and accelerometer. Interestingly, one of the rear cameras will also provide still camera functionality, equipped with a 5MP sensor and LED flash.
[RELATED_ARTICLE]The LG G-Slate's main differentiator is definitely its ability to display and record 3D content, however, it must be noted users will require glasses to view the content on-device. So while the G-Slate is not autostereoscopic like the Nintendo 3DS, it is as yet unclear whether the glasses required utilize passive or active shutter technology, though passive seems like the best bet for sustained and on-the-move use. While the tablet is only capable of 720p HD and 3D playback on device, it can output and record full 1080p HD and 3D content.
As for pricing and global availability, details are scarce, though we do know the LG G-Slate will arrive exclusively on T-Mobile in March, in the United States. Check out some high res images below: