Vostro 3501
Popular tech to stay connected anywhere. Save more on exciting Dell PCs.
Click here to know more
Advertisements
Google has updated its Android platform distribution figures, which show Gingerbread continues to leads the pack at 56 percent of devices, though it is down from 57.5 percent last month. Android v4.1 Jelly Bean, which made its debut a couple of months ago, has crawled up to 1.8 percent, higher from 1.2 percent last month. The platform is likely to see rapid growth in near future as major manufacturers such as HTC and Samsung planning to launch Jelly Bean-based smartphones / tablets in next couple of months.
But there's not good news for Android v4.0 Ice Cream Sandwich, as figures show its growth has slowed down after posting strong growth for couple of months. Its share has risen from 20.9 percent only to 23.7 percent. However, ICS is likely to grow in coming months with Sony, Motorola and other manufacturers finshing rolling out ICS updates for their previous gen devices. It is unlikely that the ICS will ever take the lead, as most of the manufacturers have shifted their attention towards the latest Jelly Bean for their new smartphones and tablets. Moreover, a lot of devices are still running the Gingerbread operating system.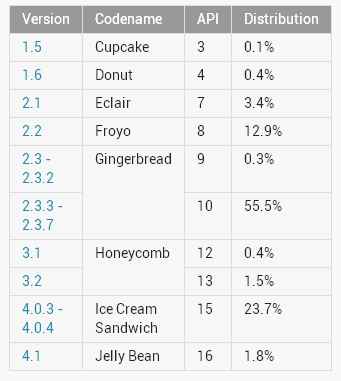 Data collected during a 14-day period ending on October 1, 2012
Other versions, as expected, are moving down. Cupcake has slumped to to 0.1 percent from 0.2 percent. Donut has stayed at 0.4 percent, Éclair has dipped to 3.4 percent from 3.7 percent and Froyo is down slightly from 14 percent to 12.9 percent. Honeycomb has also moved down from 2.1 percent to 1.9 percent. Read the full Android platform distribution figures here. Also check out last month's Android platform distribution figures here
Also read,