India shipped a total of 109.1 million smartphones in 2016, with overall growth being marginal at 5.2 percent over 2015. In Q4 2016, however, the smartphone shipment volumes came in at 25.8 million units, declining by 20.3 percent over previous quarter.
According to research firm IDC, the decline was seasonal and attributed to demonetization. Among these, the share of Chinese smartphone vendors in India reached 46 percent in Q4 2016, and almost doubled against figures from Q4 2015. However, in a steep downturn, the market share for homegrown vendors slipped to a measly 19 percent.
Among all vendors, it is Samsung that continues to lead with a share of 25.1 percent. The company saw a decline of 13.1 percent in Q4 2016, but annual shipments went up by 3.2 percent. For Samsung, the affordable, mid-range Galaxy J series continues to drive majority of its sales in India.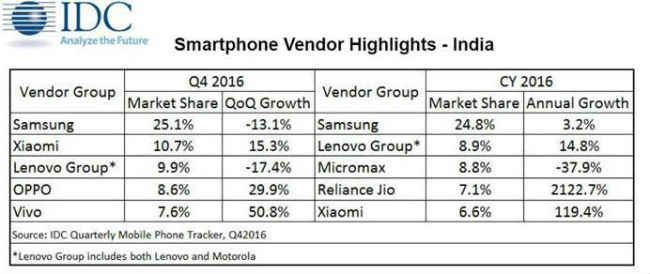 "This is relatively lower than expected smartphone shipments for India owing to sluggish first half and demonetisation at the end of year," said Karthik J, Senior Market Analyst, Client Devices, IDC.
In light of this, Xiaomi dethroned Lenovo to claim second place with a market share of 10.7 percent. The company saw a growth of 15.3 percent quarter-on-quarter, as Lenovo slipped to third with a decline of 17.4 percent in Q4's shipments. For the Lenovo group, the Moto E3 and Lenovo K5 accounted for almost half the shipments in last quarter. Meanwhile, Oppo and Vivo have also finally made it to the top 5 list with a share of 8.6 percent and 7.6 percent, respectively. For Oppo and Vivo, the strength lies in offline presence, but they are focusing equally around online channels, too. Vivo overtook the fifth spot from Reliance LYF, growing four times by volume in 2016.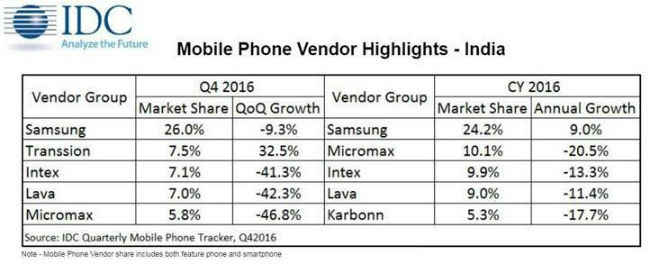 In the feature phone segment, China's Transsion Group climbed to second spot. The company's "itel" brand clocked a market share of 7.5 percent in the mobile segment. Annual shipments for feature phones remain dominant at 136.1 million units. "Feature phone to smartphone migration has slowed down as prices of smartphones are still quite high for a feature phone user," added Karthik.
While the growth was marginal in 2016, the current year will be a test of survival for many vendors. IDC expects 2017 to be a year of consolidation, with feature phones still dominating the mobile segment.