Huawei is set to launch its much-hyped Ascend D2 phablet at the forthcoming CES 2013 event. Weeks before it is shown to the world, the Ascend D2 has already popped up in the leaked images on the web.
Huawei had announced the Ascend D2 back in October this year. The device is believed to be the successor of the D1 and features a number of improved specs. The leaked images confirm the Ascend D2 has an HD 5-inch display, a quad-core 1.5GHz processor, 13MP camera, run Android 4.1, and a 3,000 mAh battery.
The design of the Ascend D2 is said to be inspired from the iPhone 5, while camera on the back appears to be resembling the one on the HTC One X. Here are the leaked images of the Ascend D2: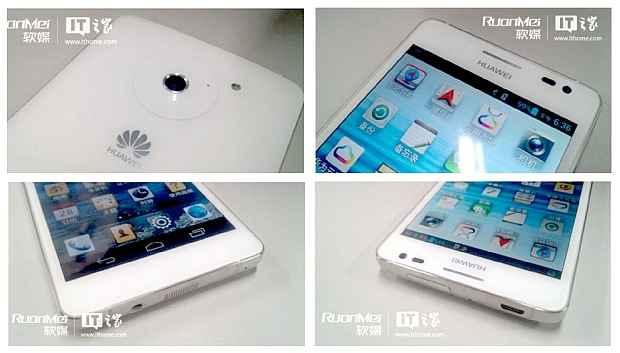 Alleged images of the Ascend D2 have surfaced on the web shortly after the company showed off its new 6.1-inch full HD phablet, the Huawei Ascend Mate. Slated to be unveiled at the CES 2013, the device comes with a 6.1-inch full HD display made of low-temperature polysilicon which will allow it to achieve a pixel density of 361ppi, 1.8 GHz quad-core processor and a 4000mAh battery. The Ascend Mate 2 is considered to be the Galaxy Note II rival. Find out more about the Ascend Mate here.
Source: Phandroid