A trio of images of HTC's rumoured flagship smartphone for 2014 - the HTC M8 have appeared on the Web. The leaked images reveal the back cover along with a hole for fingerprint scanner on top.
Images have emerged of the HTC M8, rumoured to be HTC's flagship phone for 2014 on the Internet. The teaser images suggests that HTC is sticking to the same design it introduced with the HTC One.
In the picture, the HTC M8 features a cutout for a fingerprint scanner on top, pretty similar to the one introduced in the HTC One Max. Another notable change in the design is that the M8 appears to be much slimmer than the HTC One, with slightly more rounded edges. The rumored specs for HTC M8 include a Qualcomm Snapdragon 800 processor, 3GB of RAM and Sense 6 UI. As far as the display is concerned, the screen size should be somewhere between 5 to 5.2 inches with a resolution of 2K (2048 x 1080 pixels).
However, nothing of this is officially confirmed yet, though we hope to hear more on the HTC M8.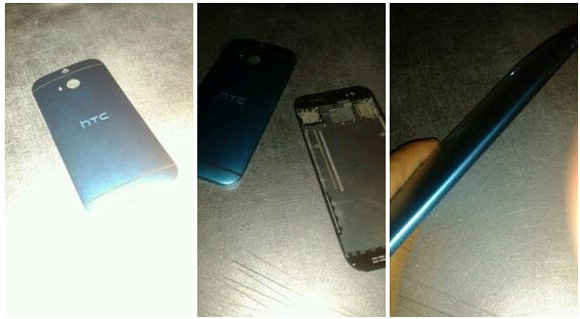 HTC's move for a turnaround with just one flagship did not seem to work for the Taiwanese manufacturer, as the excitement over the HTC One was very short-lived, which is quite perplexing because there was nothing wrong with the HTC One. As a matter of fact, it was probably one of the best smartphones of the first half of 2013. However, a lackluster marketing campaign and poor brand recognition led to its downfall.
It seems that HTC is already preparing for the next calender year with the M8. This could possibly be the one of the last chances for HTC to make a comeback and if CEO Peter Chou is not able to turn things around in the next product cycle, we might not see HTC in 2015.
Source: Unwiredview