A slide from an internal presentation for HP employees was leaked yesterday, placing the HP Slate head-to-head with the Apple iPad, detailing comparative features that are marked as either 'HP threat' or 'HP advantage', depending on how the Slate racks up against the iPad. It reveals a lot of information regarding the specifications and pricing of the HP Slate, a device that has been on the radar for a quite some time, but not appearing as more than a blimp till now. It appears to have been given to employees to calm the frenzy over the iPad at HP.
Here are its specifications:
Screen: 8.9" 1024x600 resolution
Touch: Capacitive multi-touch
OS: Windows 7 Home Premium
Processor: 1.6GHz Intel Atom Menlow Z530
Graphics: Intel UMA
Video Out: 1080p
RAM: 1GB DDR2
Camera: VGA webcam & 3MP camera
Battery life: 5hrs
Wireless: 802.11b/g, Bluetooth, optional 3G, WWAN, GPS
Dimensions and weight: 150x234x14.7mm (width x height x thickness) at 0.67kg
Storage: 32GB and 64GB, with SD card reader (up to 128GB)
Output: 3.5mm headphone/microphone jack, USB 2.0 port, HDMI output
Pricing: $549 for 32GB, and $599 for 62GB
What is still not known: release date, and price of the 3G enabled version.
Check out the slide below. Do also check out the below videos, which will give you a glimpse of the product in action.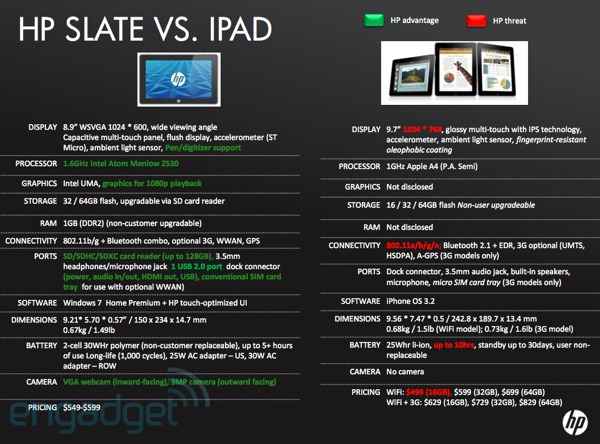 Image courtesy: Engadget.com