The Delhi High Court has ordered Xiaomi to halt selling, advertising, manufacturing or importing of its devices in India after Ericsson sued Xiaomi. While the new development is set to jolt Xiaomi's ambitious plans for the Indian market, it has certainly brought the issue of 'infringement of patented technologies' in India to the limelight – the reason why Ericsson filed a lawsuit against Xiaomi.
Ericsson claims Xiaomi has infringed upon its Standard Essential Patents (SEP). According to SpicyIP, Xiaomi violated eight patents related to AMR, EDGE and 3G. Xiaomi reportedly breached Standard, Essential Patents (SEPs) which are subject to FRAND (Fair, Reasonable and Non-Discriminatory) terms.
It's learnt Xiaomi had ignored Ericsson's request for communication for almost three years. Here's Ericsson's detailed statement:
"Ericsson's commitment to the global support of technology and innovation is undisputed. It is unfair for Xiaomi to benefit from our substantial R&D investment without paying a reasonable licensee fee for our technology.

After more than 3 years of attempts to engage in a licensing conversation in good faith, for products compliant with the GSM, EDGE, and UMTS/WCDMA standards Xiaomi continues to refuse to respond in any way regarding a fair license to Ericsson's intellectual property on fair, reasonable and non-discriminatory (FRAND) terms. Ericsson, as a last resort, had to take legal action.

To continue investing in research and enabling the development of new ideas, new standards and new platforms to the industry, we must obtain a fair return on our R&D investments. We look forward to working with Xiaomi to reach a mutually fair and reasonable conclusion, just as we do with all of our licensees.

Since this is an ongoing legal process we do not have any more comments on this matter at the moment."
Techinasia's Paul Bischoff points out Xiaomi devices come with support for radios that are supported by most of the Indian carriers. China is known for being over protective for domestic tech companies, helping them to get away from paying royalties. It may be recalled Qualcomm's Q3 2014 earnings were impacted due to licencing issues in China. Apparently, the Chinese players are much more vulnerable outside China borders. Moreover, India is a big market for which Xiaomi has huge plans. So, Ericsson is likely to follow Xiaomi and others in every markets they enter.
Ericsson claims to have some 35,000 granted patents, making it the largest holder of standard-essential patents for mobile communications. According to reports, Ericsson is involved in a similar tussle with companies such as Micromax, Gionee and Intex.
It may be recalled Ericsson had also filed the patent infringement lawsuit against Micromax last year. Even as the matter is still with the court, the two sides have agreed to an interim licence agreement.
In a statement, Micromax said it is "committed to negotiating a FRAND licence with Ericsson as Ericsson has undertaken to providing a FRAND licence to Micromax".
"Formal communication between Intex Technologies and Ericsson with respect to the patent claimed by Ericsson is under discussion," says the statement from Sanjay Kumar Kalirona, General Manager, Mobile Business, Intex Technologies.
Xiaomi is one of the most talked about smartphone brands in the country. The company grabbed nationwide attention with its unique online-exclusive and flash sales model. Also read: Xiaomi: How its strategy of High-end phones at low prices is loved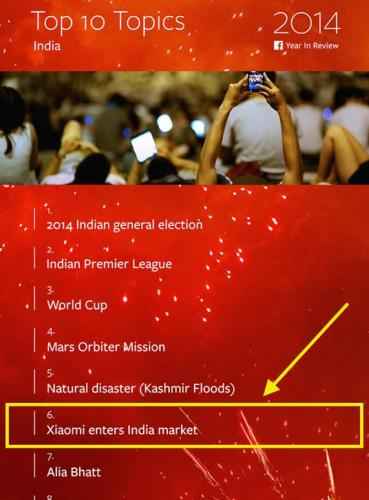 Xiaomi's entrance to the Indian market was the #6 most talked about topic on Facebook in 2014 (in India).
"We're looking for these magic price points. We're not actively saying that let's make a device that we can sell for say Rs 18,999. Xiaomi has two kinds of devices, one is the high-end absolutely uncompromised Mi family and then there's the Redmi family, which is high-end but with some compromises," Xiaomi Vice President of international affairs, Hugo Barra said in a recent interaction with Digit.
As said above, the latest patent lawsuit is set to jolt Xiaomi's plans for the Indian market. But that said, it's high time the Indian companies should come clean on patent infringement issues.
For more technology news, product reviews, sci-tech features and updates, keep reading Digit.in or head to our Google News page.