Like the Yeti or Bigfoot, the X Phone from Motorola has long been rumoured and talked about with only slight hints appearing here and there that allude to its existence. After a couple of days of staying off the radar, the X Phone is back as the subject of rumours thanks to its name being spotted in Antutu benchmark records by Japanese blog RBMen.

The Antutu scorecard shows the X Phone running Android 5.0.1 (Key Lime Pie) with a final score of 15,479 which, frankly, isn't that impressive. Although there's absolutely no way to ascertain the veracity of this information, it should be fun to do some speculative analysis. When we took a look at the scores of some of the phones we've tested, we saw that there were quite a few phones that outscored the X Phone at least in Antutu. These included the HTC One (23,725), the HTC Butterfly (20,905), the Sony Xperia Z (18,426) and even the Google Nexus 4 (17,099).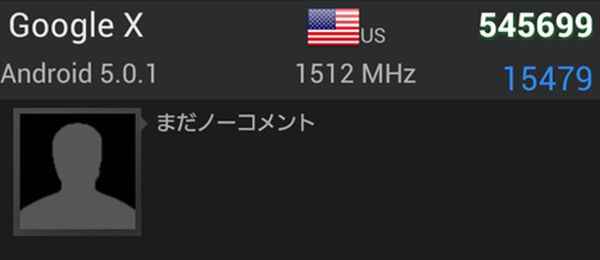 Now, those numbers may mean absolutely nothing since a device's performance cannot be completely represented by benchmark numbers and the numbers that are claimed to belong to the X Phone may just be made up. However, if there's even a chance that the Antutu numbers are real, then it looks like the X Phone won't be a flagship phone but rather a mid-range Android phone competing with the likes of the Samsung Galaxy Grand and the Xolo X1000.

However, earlier rumours have painted the X Phone as a high-end flagship device which basically makes the low benchmark numbers look even less accurate. Hopefully, we'll be able to put all this speculation to rest once we get to see the real X Phone either at Google's I/O conference in May or sometime later in the year.
Source: The Droid Guy