Google has updated its Android distribution stats on its Android Developers site, and not a big surprise that the standings haven't changed much from the previous stats. However, Google's latest Android Jelly Bean platform has grown two-fold form last month.
According to Google's Android distribution stats, Jelly Bean (including both Android v4.1 and v4.2) have 6.7 percent share, up from 2.7 percent at the November-start. Android 4.0 Ice Cream Sandwich has also seen similar growth, posting 27.5 percent in December, up from 25.8 percent.
Talking about the pre-ICS versions, Android 3.0 Honeycomb struggled at 1.6 percent share. Android 2.3 Gingerbread, however, continues to be the top Android OS with 50.6 percent share of all Android devices. The figures are though lower from the 54.2 percent share that was posted in November. Other older Android versions, Android 2.2 Froyo is at 10.3 percent, Android 2.1 Eclair with 2.7 percent, Android 1.6 Donut with 0.3 percent and Android 1.5 Cupcake at 0.1 percent. Check out the complete Android distribution stats in the table below: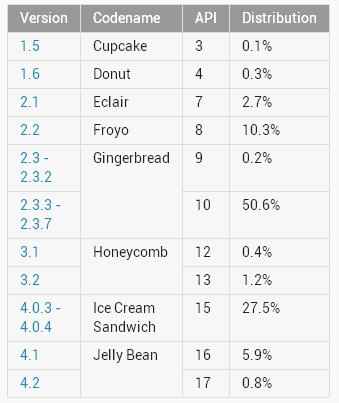 Data collected during a 14-day period ending on December 3, 2012
Most handset makers are gradually revealing their Jelly Bean update schedule, while many are still rolling out the ICS updates. It may take a while for the new Android versions to have their share spike in the near future. Next year, ICS is likely to be dominant while we may have small number of devices running on Android 5.0, which is being dubbed as Key Lime Pie
It's notable these figures don't include the Android devices that cannot access the Google Play store. You can check out the latest Android distribution stats here.