An article detailing the Fab 5 Conference, and launch of 3 new phones from Sony Ericsson, namely the Vivaz Pro, and Xperia X10 Mini and Mini Pro.
Sony Ericsson held a press conference today, themed "Evolve, Engage, Excite", launching their Fab 5 phones, and introducing their new Social Networking brand ambassador – Kareena Kapoor. The company is changing its portfolio in the Indian market, and will be launching new devices across budgets in the coming months.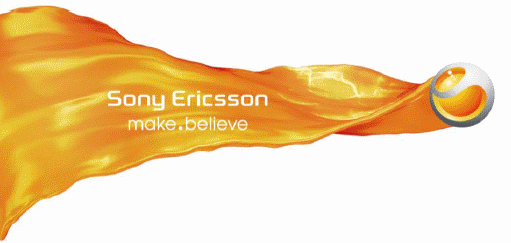 The Xperia X10 and Vivaz were launched today, and will be shortly joined by the rest of the "Fab 5" touchscreen phones, the Xperia X10 Mini, Xperia X10 Mini Pro, and the Vivaz Pro, which are touted to be Communication Entertainment phones, on Sony Ericsson's path of convergence of mobile entertainment, digital media, and enterprise. Each is a single device that helps you "connect everything". Sony Ericsson has also struck content partnerships with MTV, UTV, Hungama, as well as Facebook and Twitter, to provide users a wealth of content and connectivity. Kareena Kapoor also spoke of she will be starting off her social networking in a big way, using her Xperia X10.
Sony Ericsson also detailed how they will be changing their retail strategy across the country, concentrating on user experience, and launching in more outlets as well as providing more demo units to allow users to get a hands-on experience with the devices they buy.
The lightweight 135 gram Xperia X10 is Sony Ericsson's flagship mobile phone of 2010, and is an Android 1.6 powered device with a 1GHz Snapdragon processor and a revolutionary user experience that is "human and intuitive". It has a 4-inch screen, an 8.1 MP camera, and features Sony Ericsson's signature applications of TimeScape and MediaScape. TimeScape allows users to manage their communication with all their contacts (e-mail, social networking, SMS) in one place, and MediaScape allows users to find and share music, photos, and videos with their friends. The phone also features Face Recognition.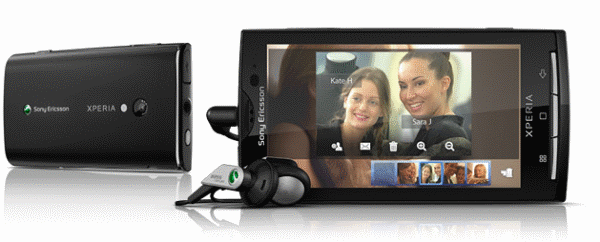 The 1GHz Sony Ericsson Xperia X10
The Vivaz is a good-looking Symbian phone designed under the philosophy of "human curvature", and weighs just 97 grams. It features a 3.2-inch nHD screen, as well as a 8.1MP camera that lets users record HD video in 720p resolution, then directly upload it with the touch of a button. The Vivaz Pro version features a slidable QWERTY keyboard in addition, and weighs 117 grams. The Xperia X10 Mini and Mini Pro are strikingly tiny phones that offer great power in a small frame and lightweight body of 88 grams on the Mini and 120 grams on the Mini Pro, and have Android 1.6. The X10 Mini Pro features a slidable QWERTY keyboard as well, just like the Pro version of the Vivaz. Both X10 Minis have a 5.1MP camera, and 2.55-inch screen.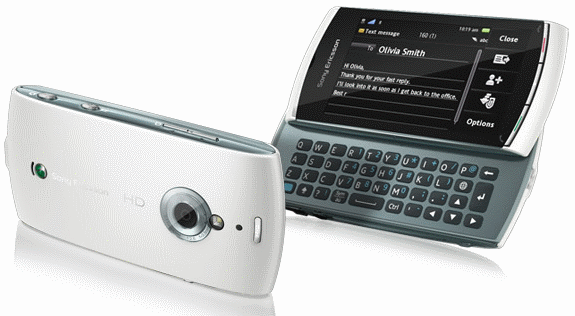 The Sony Ericsson Vivaz Pro with slideable keyboard
We got a hands-on of all these phones at the conference, and can tell you one thing for sure about them – they are light! The build quality is solid, though some work should be done in making the screens smudge-free. The Android interface of the Xperia X10, Mini and Mini Pro is crisp, though the capacitive single-touch screens across all phones are not very responsive, with a slight lag. The Symbian OS on the Vivaz is quite fast, especially for its 720MHz processor, but then again, the phone was not filled with too much clutter that might have slowed it down. The Symbian OS was not as nice looking or vivid as the Android, but functional enough.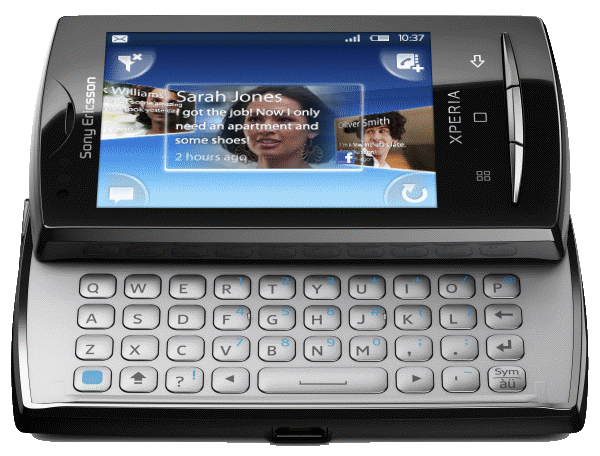 The Xperia X10 Mini Pro with slideable keyboard
The signature TimeScape and MediaScape applications look well made, with a smooth flow to the simple to use interface. They, as well as other X10sions - applications, are available on the Vivaz and Vivaz Pro apart from the top-of-the-line Xperia X10, while the XP X10 Mini and Mini Pro only feature TimeScape. The Vivaz Pro, Xperia X10 Mini and Mini Pro will be released soon, and prices have not yet been announced for them. The prices of the just launched Vivaz and the Xperia X10 are Rs. 25,695 and Rs. 35,795 respectively.
Other new models showcased at the event were the Elm, Hazel, and Aspen.