#IBMCodePatterns, a developer's best friend.
#IBMCodePatterns provide complete solutions to problems that developers face every day. They leverage multiple technologies, products, or services to solve issues across multiple industries.
Click here to know more
Advertisements
Android, through an official blog post yesterday, revealed that Android Kitkat 4.4 is now running on 21% of Android devices. The newest version has been widely adopted by OEM manufacturers around the globe. Low hardware requirements of the version (4.4 Kitkat) has played a major part in the success and the worldwide adoption of the Android version.
Even as Android Kitkat is increasing its share in the Android pie, 4.3 Jellybean still holds 50% of the market. Some older devices are still stuck with 2.2 Froyo and 2.3 Gingerbread whereas the percent share of Ice Cream sandwich has now decreased to 10.6%.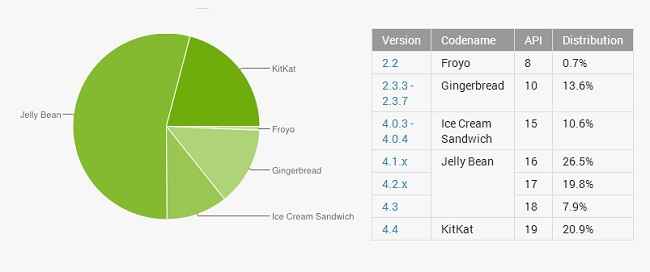 Google gathered this data via the Google Play store app. As the app store supports Android versions 2.2 and above devices running older versions of Android were not included. Google also states that such devices only make up about 0.1% of the total market share.
After this year's Google I/O we are looking forward to a new material design on the upcoming Android L. Android L is still available as a developer preview for the latest Nexus devices. With "Project Silver" and "Android One" also announced, Android L may see a faster adoption rate than all previous versions of Google's mobile OS.
Source: Android