When Google partnered with Nestle and confirmed the name of the next version of Android which was KitKat, a promotional contest was also announced in which the winners of the contest would receive the 2013 version of the Nexus 7 tablet.
The contest was announced in major countries, including India, where one would have to buy the special Android branded KitKat chocolate bars and send a code inside the wrapper to a number. The contest has come to an end and the winners of the contest have started receiving their new 2013 Nexus 7 tablets.
However, the winners in India have not been receiving what they were promised on the pack. While the contest clearly mentioned that the winners will be rewarded with the 2013 version of the tablet, the winners were given last year's Nexus 7 tablets. Nestle quickly responded to this goof up and has said that the new 2013 model was launched in India in the month of November however the contest was announced before it went on sale in the country.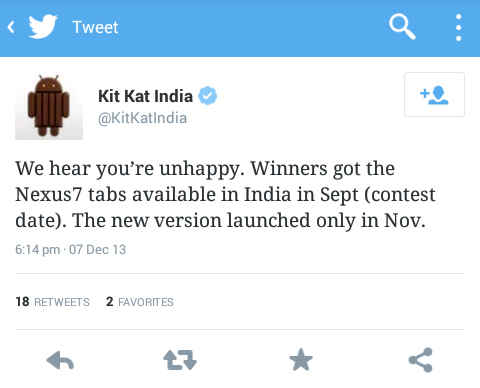 It is worth mentioning that the contest banners and KitKat packs clearly showed and mentioned about the new 2013 edition and not last year's.
Source: AndroidPolice