Want to modernise your banking loan application?
Build an application that analyses credit risk with #IBMCloud Pak for Data on #RedHat #OpenShift
Click here to know more
Advertisements
Google has released its latest Android distribution figures, detailing the approximate number of active devices running a given version of the Android OS.
The pie chart and table is based on the number of Android devices that have accessed Google Play store within a 14-day period ending on 1st August 2012.
From the chart, it is easy to infer that Android 2.3 Gingerbread is the most popular of the Android operating systems available in the market today.
Android 4.0 ICS, launched back in October 2011, is now active on almost 16% of devices available in the market, a growth of about 50% when compared to the past data that was released.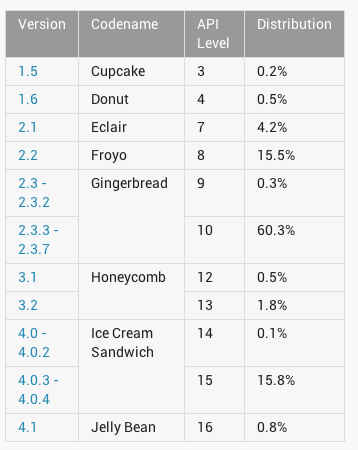 Google's latest OS, Android 4.1 Jelly Bean, launched in the end of June 2012, is active on mere 0.8% devices. Probably because third party manufacturers haven't started rolling out the update to current ICS enabled devices. Currently, the only devices to run Android 4.1 Jelly Bean are the Google Nexus 7 tablet and Google's flagship smartphone, the Galaxy Nexus, which has started receiving the Android 4.1 update globally. Officially, the Galaxy Nexus is not available in India. The recently announced Karbonn Smart Tab 1 tablet will also feature Jelly Bean, but no release date has been announced.
In the past, Asus, HTC and Samsung have confirmed that some of their devices will receive the Jelly Bean update in the near future.
A fun fact about the Google OS is that it is named alphabetically after popular deserts. The names and versions of Google's Android OS are as follows.
1.5-Cupcake
1.6-Donut
2.1-Eclair
2.2-Froyo
2.3-Gingerbread
3.1-Honeycomb
4.0-Ice Cream Sandwich
4.1-Jelly Bean
Source: Android Developer