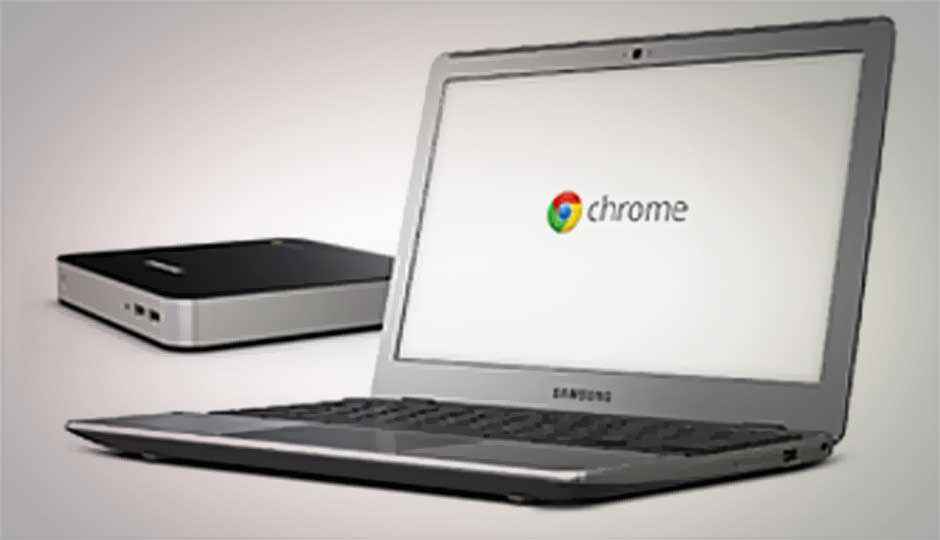 Samsung today announced the release of a new Chromebook and Chromebox, both of which coincide with Google's updates to Chrome OS.
The Chromebook concept is familiar: an ultraportable notebook running Chrome OS, but the Chromebox is new. The Chromebox is a miniPC running the Chrome OS for people who want some screen flexibility in their Chrome OS experience.
Final specs are forthcoming, but the Samsung Chromebook Series 5 550 will come with a 12.1-inch (1,280-by-800 resolution) screen, weigh 3.3 pounds, and be powered by an Intel Core processor. The system comes with Gigabit Ethernet and either 2.4/5GHz dual-band Wi-Fi alone or a combination of Wi-Fi and 3G wireless. The Chromebook boasts six hours of battery life under constant use and over six days of standby. Other specs include 4GB of memory, two USB 2.0 ports, a 4-in-1 memory slot, HD webcam, Kensington lock port, and a DisplayPort . The Chromebook Series 5 550 will retail for $449 (Wi-Fi only) and $549 (Wi-Fi 3G).
The Samsung Chromebox Series 3 is a small, square miniPC that extends ChromeOS to the desktop. It also comes with 4GB of memory and an Intel Core processor. Dual band 2.4/5GHz 802.11 a/b/g/n Wi-Fi is also standard with a Gigibit Ethernet port. The Chromebox has better connectivity, with six USB 2.0 ports, two DisplayPort jacks, DVI, and Bluetooth 3.0. The Chromebox will let the ChromeOS user connect a large screen monitor including 1,920-by-1,200 resolution displays. The Chromebox will retail for $329.
The Chromebox and Chromebook will boot faster than previous Chrome OS systems, and feature better overall performance because of their Core-based processors with integrated HD graphics. It will certainly be an improvement over the Atom-powered Chromebooks from 2010-2011. The Chrome browser in Chrome OS syncs with the Chrome browser on your Windows PC or Mac, so you can continue browsing where you left off, including bookmarks, docs, and open sites. The Chrome Web store is an integral part of the ChromeOS experience, featuring apps like Angry Birds and Netflix. Over 500 schools are using Chromebooks in daily use, and you'll start seeing businesses deploying Chromeboxes in call centers, retail stores, and clinics.
Both Samsung systems will be available online in the U.S. starting May 29th, and in select Best Buy stores in June. Copyright © 2010 Ziff Davis Publishing Holdings Inc.