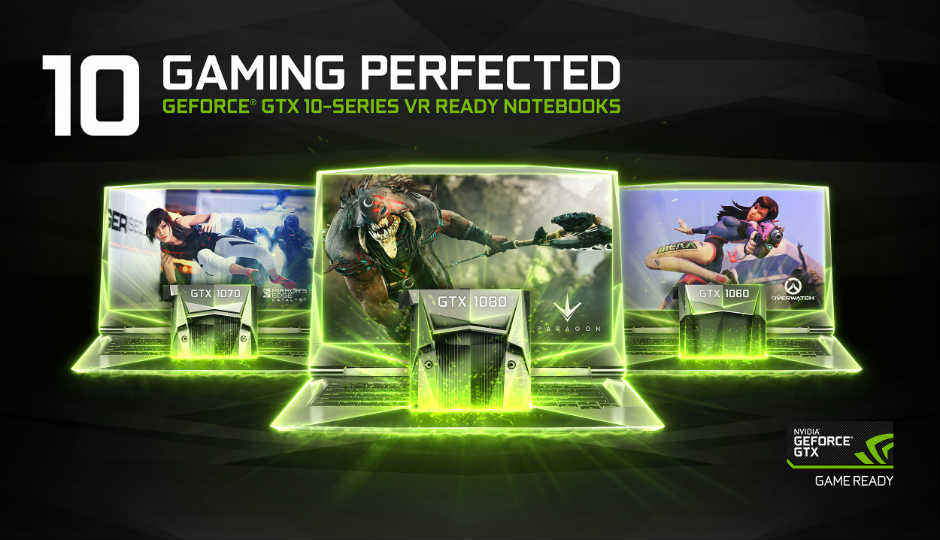 HIGHLIGHTS
The latest range of 10-series GPUs close the gap between desktop and mobile class graphics
Earlier this weekend, NVIDIA announced the much awaited mobile versions of its 10 series GPUs. The NVIDIA GeForce GTX 1080, 1070, 1060 are finally here for laptops and according the company, they will be able to close the performance gap between desktop class and mobile GPUs (see table below). NVIDIA is so confident about the performance of these laptop GPUs, that it has removed the "M" from the naming convention alltogether. Nvidia claims that the new GPUs are up to 75 percent faster compared to its Maxwell-based GPUs in 4K (GTX 980M, 970M and 960M respectively). This also means that all three newly announced GPUs will be able to handle 4K much better. Nvidia also claims that the all three GPUs can handle VR and will support NVIDIA's VRWorks technology.
NVIDIA made headlines a few months back when the company introduced its new 10-series desktop class GPUs. The new Pascal architecture based GPU lineup is made using a 16nm processors, making them power efficient. The NVIDIA GeForce GTX 1080 is currently the best GPU you can buy in India. The company is using the same architecture and technology for its new mobile GPUs. What's more, The NVIDIA 10-series will be powerful enough to provide for the new 120Hz G-Sync panels, which were also launched alongside the GPUs.
NVIDIA has also updated its battery boost technology, and with it the 10-Series laptop GPUs claim to provide 2x more battery life. This has also enabled NVIDIA to raise the overclocking overhead. Previously, the 900M series GPUs had a 100MHz overclock ceiling. Now, with the 10-series GPUs, it is being raised to 300MHz. In addition, NVIDIA has extended support for both Ansel and Vulcan technologies.
| | | | | |
| --- | --- | --- | --- | --- |
| SPECS | GeForce GTX 1080 | GeForce GTX 1080 PC | GeForce GTX 1070 | GeForce GTX 1060 |
| CUDA cores | 2560 | 2560 | 2048 | 1280 |
| Base Clock | 1556 | 1607 | 1442 | 1404 |
| Boost Clock | 1733 | 1733 | 1645 | 1670 |
| Memory Speed | 10Gbps | 10Gbps | 8Gbps | 8Gbps |
| vRAM | 8GB DDR5X | 8GB DDR5X | 8GB DDR5 | up to 6GB DDR5 |
| Memory interface | 256-bit | 256-bit | 256-bit | 192-bit |
| Memory bandwidth | 320GB/s | 320GB/s | 256GB/s | 192GB/s |