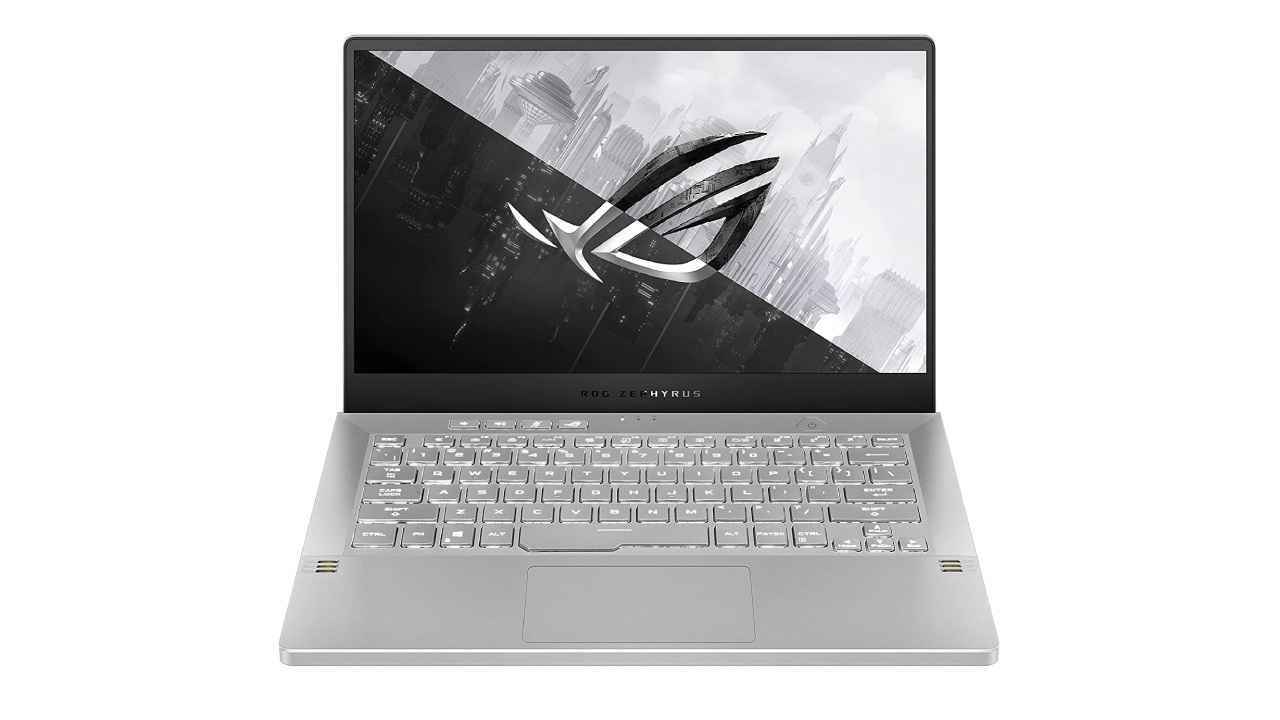 When it comes to gaming laptops, it is always wise to opt for one with the latest technology. You will definitely benefit from ample SSD or solid-state drive storage, which is much faster than a traditional hard disk drive. An SSD significantly reduces the loading times in most heavy-duty casual as well as competitive games. SSDs can also be used as a boot drive so that you can get to your desktop much faster. This makes it one of the key components of a gaming laptop, along with the graphics card, the processor and the RAM size. These days, you can get well-performing in-built SSDs on laptops with fast speeds that augment gaming performance. Here are some decent mid-range gaming laptops with 512 GB SSD that you can invest in.
ASUS ROG Zephyrus G14 (2021)
Here's a rather compact gaming laptop with a 14-inch full HD display. Each internal component has been selected to ensure optimal gaming performance while keeping the thermal temperatures in check since this is a small laptop. This includes a Ryzen 7 5800HS CPU, which is well known for its powerful gaming and everyday performance, along with 8GB of RAM, which ensures that games run smoothly, no matter how taxing they are or how much memory they use. Asus has gone with an Nvidia GTX 1650 4GB graphics card in this ROG Zephyrus laptop, which is a good choice as it has capable gaming performance and will net you high frames without running too hot. As for the SSD, the laptop packs in an M.2 NVMe PCIe 3.0 drive, which is fast and reliable. You can also upgrade it in the future.
Lenovo IdeaPad Gaming 3 (82EY00U4IN)
This gaming laptop is quite a bang for the buck – it packs in a great set of gaming-centric features at a very reasonable price. The laptop comes with a 15.6-inch full HD display with a refresh rate of 120Hz, making games look smooth so that you never miss crucial shots on the opponent. It uses a decent CPU and GPU combo to deliver high FPS gaming performance – an AMD Ryzen 5 4600H and an Nvidia GTX1650 with 4GB of GDDR6 memory. The 16GB of RAM onboard further makes it suitable for gaming and other demanding applications.
MSI Bravo 15 Gaming Laptop (A4DDR-212IN)
The MSI Bravo features an AMD CPU and GPU combination, which helps in several ways – it keeps temperatures in check and ensures ideal gaming performance, even for more demanding open-world games. It is a laptop with a 15.6-inch display and 144Hz refresh rate, an AMD Ryzen 7 4800H CPU, and an RX550M GPU. Together, these components ensure that games not only look good on the MSI laptop but also run well, without frame rate drops and temperature spikes. To further help with the gaming experience, you get 16GB of RAM, enough for all the latest games coming out and 512GB of M.2 NVMe SSD storage. Incidentally, this laptop has an efficient design too, which makes room for thermal vents.
HP Pavilion Gaming Laptop (15-DK1511TX)
This gaming laptop has a great design and the performance to match as well. While it does keep a lot of the gamer elements, it presents them in a sophisticated manner, lending a nice look to the laptop. The laptop isn't just about looks, though – it packs in an Intel i7 10th generation CPU, which is regarded as one of the best mobile chips for a host of purposes. The 8 core CPU will make short work of running games and demanding applications without any trouble. Enhancing the gaming performance is the GTX 1650Ti GPU which can manage to run new open-world games and the latest multiplayer games with consistent frame rates and impressive graphics. There's 16GB RAM, a 512GB NVMe SSD, and 32GB Intel Optane memory, which acts as a speed booster for the storage drive.