HIGHLIGHTS
Microsoft announced Windows 10S is meant for education and is a streamline version of Windows 10.
After what feels like months of rumours and leaks, Microsoft has finally unveiled its Chrome OS competitor. At its education focused event today, Microsoft announced Windows 10S, which is essentially the company's take on the concept behind Chrome OS. Microsoft's Windows Head, Terry Myerson, said that all apps running on Windows 10S will be downloaded from the Windows Store. Myerson showed a demo of an app being downloaded from the web. Windows flagged the download and suggested a similar app from the Windows Store.
To be clear, desktop applications will still run on Windows 10S, they'll just need to be packaged differently in order to function. Windows 10S also supports all web browsers from the Windows Store, a marked difference from ChromeOS, which is driven by Google Chrome. Of course, that means if Google lists its Chrome Browser on the Windows Store, you'll be able to run the browser on Windows 10S. To that end, the full suite of Office 2016 apps are also coming to the Windows Store.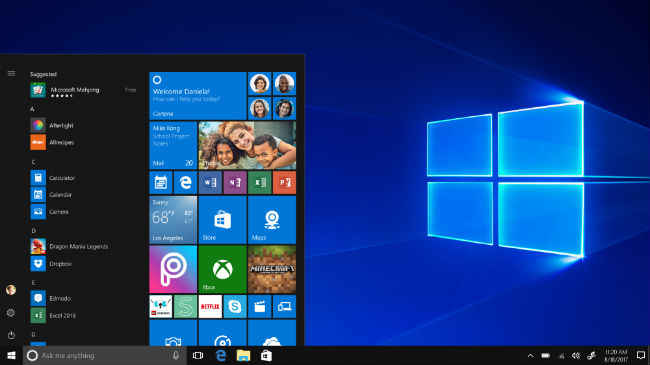 Further, Myerson demoed the login process on the new operating system. First time login on Windows 10S will be faster than on Windows 10 Pro and subsequent logins will take less than 5 seconds, Myerson said. Windows 10S can also be configured using a USB stick that'll have pre-configured options. Once configured, other Windows 10S machines will simply detect the USB stick and set up laptops the way a school/teacher wants it.
As has been the case with Microsoft's software initiatives, partners will play a big role here as well. Myerson said companies like Samsung, Acer, Toshiba, and more. Myerson said devices running on Windows 10S will be coming "this summer" at a starting price of $189. Premium devices will be made on Windows 10S too, Myerson confirmed.
For schools that are running Windows 10 Pro PCs, Windows 10S will be free. To sweeten the deal, Microsoft is throwing in Office 365 education with Microsoft Teams and a subscription to Minecraft: Education Edition. For those who buy Windows 10S machines, an upgrade to Windows 10 Pro will be available for running desktop software.