Lenovo has unveiled the new IdeaCentre Q190, calling it the "world's smallest full-function desktop PC." The product is aimed at consumers looking to purchase an entry-level, space-saving device with maximum utility.
The IdeaCentre Q190 measures a tiny 22 mm (less than an inch) in width, and features full HD graphics support, an optional Blu-ray drive, and support for a max of 7.1 surround sound, among a host of other features that make it an excellent option for consideration as even a home theatre system. The system is powered by an Intel Core i3 processor, and runs Windows 8 as the operating system. It is expected to be available from January, with a price-range starting around $349 (roughly Rs. 19,139).
Lenovo also announced the addition of new devices to its C-series all-in-one family. These computers offer up to 1TB of hard disk space, with the sole exception of the C540, which offers up to 2TB. There is up to 8GB of RAM available, as well as a 720p HD webcam, the Lenovo Education portal, and Dolby Advanced Audio V2. The new C340, C440, C540, C345 and C445 all run Windows 8 as the operating system.
The C240 and C245 models have 18.5-inch displays, and a starting price of $349. The C240 has an Intel Celeron processing unit, while the C245 runs on an AMD E2 dual-core processor. The C340 ($499), C440 ($519), C540 ($549), C345 ($479), and C445 ($499) models are customized specifically for entertainment purposes, and come equipped with the Lenovo Dynamic Brightness System and the Lenovo Eye Distance System, which informs the user when they're too close to the screen. The C340 and C345 have 20-inch displays and the C440 and C445 have 21.5-inch displays, while the C540 sports a 23-inch display. The C240 and C245 are expected to launch in November, with the rest being released in January.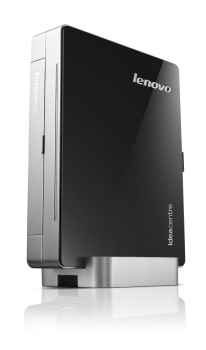 Lenovo IdeaCentre Q190
Source: Slashgear