Lenovo India has launched the Lenovo ThinkCentre M60e, one of the first desktops to sport the Rupee symbol on its Microsoft-compatible keyboard. Lenovo has partnered with Microsoft to prepare a user-friendly software solution and incorporate the Rupee symbol as per the Bureau of Industry Standards guidelines. The company has also announced that it will incorporate the Rupee symbol in all its products in the next few months.
[RELATED_ARTICLE]
The company hopes inclusion of the Rupee symbol on keyboards will enhance the ease with which PC users utilise various Microsoft software applications such as spreadsheets, word documents etc. All this, of course, helps in further widening the usage of the symbol.
Rahul Agarwal, Executive Director – Commercial Business at Lenovo India, says, "The Rupee symbol highlights India's critical role in the global business landscape. Lenovo is proud to be one of the first PC players in India to launch Microsoft software compatible Rupee ready keyboards. We are in the process of transitioning the entire product range to be Rupee ready in the next few months."
ThinkCentre M60e, the latest in string of 'Think' desktops by Lenovo, features Windows 7 Lenovo Enhanced Experience system, which promises a faster startup and shutdown.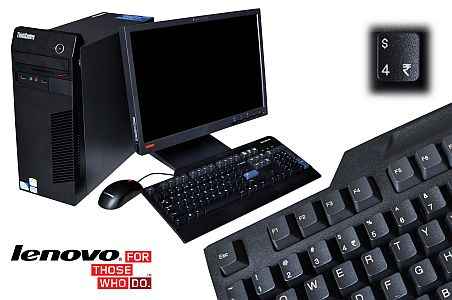 Also read,