Want to modernise your banking loan application?
Build an application that analyses credit risk with #IBMCloud Pak for Data on #RedHat #OpenShift
Click here to know more
Advertisements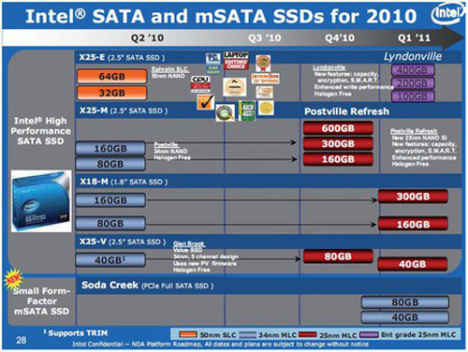 Intel's 2011 roadmap for SSDs and processors has been leaked, and has revealed some rather interesting products coming up. Check out a list of upcoming SSDs above, and processors below. Some of the most notable SSD configurations include a 400GB version of Intel's X25-E drive, a 600GB version of the X25-M drive, a 160GB version of the low profile (1.8-inch) X18-M drive, and a 80GB version of the X25-V drive. There are also two new "small-form factor mSATA SSD[s]" expected, codenamed Soda Creek. They seem to be built for PCIe slots.
On the processor front, Intel will be releasing 19 processors based on its new power-efficient Sandy Bridge architecture, of which 13 are for desktops (9 quad-core, 4 dual-core), and 6 for laptops/netbooks (3 quad-core with TDP ranging from 45W to 55W, and 3 dual-core with TDP of 35W each).