Intel is officially the third discrete PC GPU maker with today's launch of the Intel Arc A-Series mobile GPUs aimed at laptops. To be honest, Intel has experimented with discrete GPUs several times with the Intel i740 being the most notable one. However, they dropped discrete GPUs in favour of incorporating integrated graphics capabilities in their consumer processors in the form of Intel HD, Intel Iris and more recently, Intel Xe Graphics. That ends today with the launch of the Arc A-Series GPUs. Intel has shed some light on three families of GPUs - Arc 3, Arc 5 and Arc 7. If you're familiar with Intel's nomenclature about processors, then you'd have easily figured that Arc 3 is the entry-level GPU followed by Arc 5 and then the Arc 7. It should be noted that there are just the mobile GPUs. Intel will also be coming out with the discrete desktop Add-In Cards (AICs) later on. Laptops featuring Intel Arc discrete graphics are available for pre-order in select markets today. Laptops with Intel Arc 5 and Arc 7 discrete GPUs should be available later this summer.
Intel Arc 3, 5 and 7 Specifications
The entry-level Intel Arc 3 mobile GPU family will debut with two SKUs - Intel Arc 3 A350M and Intel Arc 3 A370M. The former has six Xe Graphics Cards whereas the latter has eight. Each Xe Core is accompanied by one Ray Tracing Unit and this remains true across the entire SKU stack. Graphics clock speed is 1150 MHz on the A350M and 1550 MHz on the A370M. Both SKUs come with 4 GB of dedicated memory. The A350M comes with a TDP range that lies between 25 to 35 watts. And the A370M is designed to operate between the TDP range for 35 to 50W.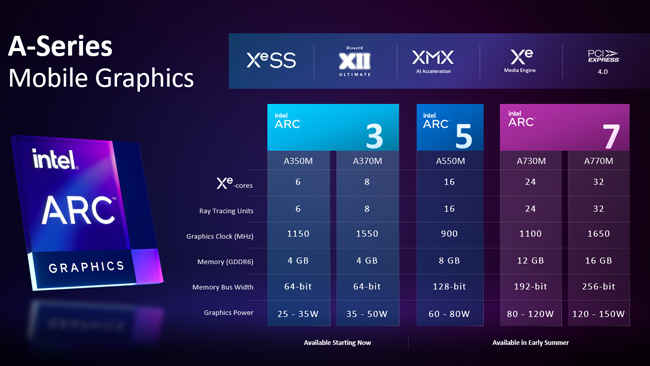 The Intel Arc 5 A550M will have 16 Xe Core clocked at 900 MHz and will have 8 GB of memory. And the Arc 7 A730M comes with 12 GB of VRAM and has 24 Xe Cores. The top SKU for the moment is the Intel Arc 7 A770M with 32 Xe Cores clocked at 1650 MHz and comes with 16 GB of VRAM. It's also designed to operate within a range of 120-to-150 watts. Overall, we have a pretty decent mix of GPUs for laptops.
Intel Arc 3, 5 and 7 Performance
Intel has only revealed performance numbers for the Intel Arc A370M GPU. When paired with an Intel Core i7-12700H, the entry-level Arc 3 GPU can manage a bare minimum of 60 FPS when running at 1080p resolution across several popular AAA-titles such as Hitman 3, Doom Eternal, Total War Saga: Troy, F1 2021, Age of Empire IV, Destiny 2, The Witcher, Strange Brigade and more. These are either on Medium or High settings with the vast majority of these numbers being obtained on Medium.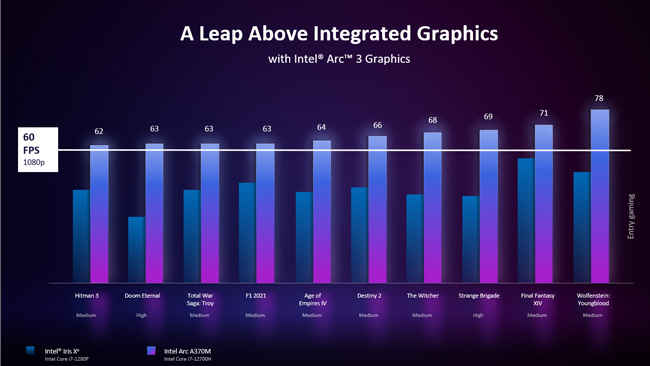 Intel Arc GPU's parallel processing capabilities can also be leveraged by content creation apps such as Handbrake, DaVinci Resolve, Adobe Premiere Pro and more.There is a 1.3x to 2.4x performance improvement when using the Intel Arc GPU to accelerate the workload.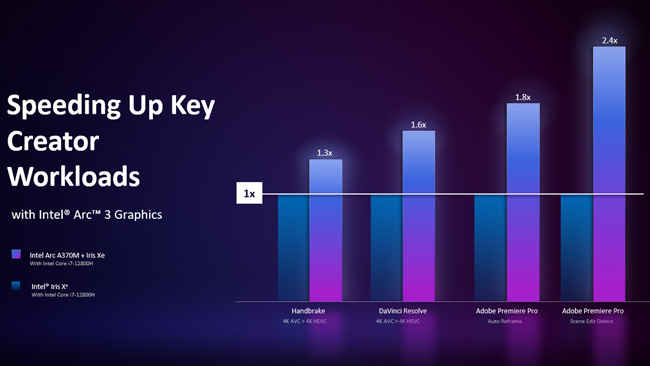 Key features of Intel Arc GPUs
Intel Arc GPUs will bring XeSS or Xe Super Sampling, an AI-accelerated upscaling solution for video games which is set to compete with the likes of NVIDIA's DLSS and AMD's FSR and RSR. Intel XeSS will be coming out in this summer.
Then there's support for AV1 Encode. A lot of GPUs can perform AV1 decode but encode is a rarity and Intel is the first to offer full AV1 hardware acceleration for encode as well as decode when using the AV1 video codec.
Lastly, Intel has Deep Link, which is a family of technologies that helps Intel GPUs work in tandem with Intel CPUs. These include features that enables dynamic power sharing, workload sharing to attain up to 30 per cent performance improvement, and more.
For more technology news, product reviews, sci-tech features and updates, keep reading Digit.in or head to our Google News page.