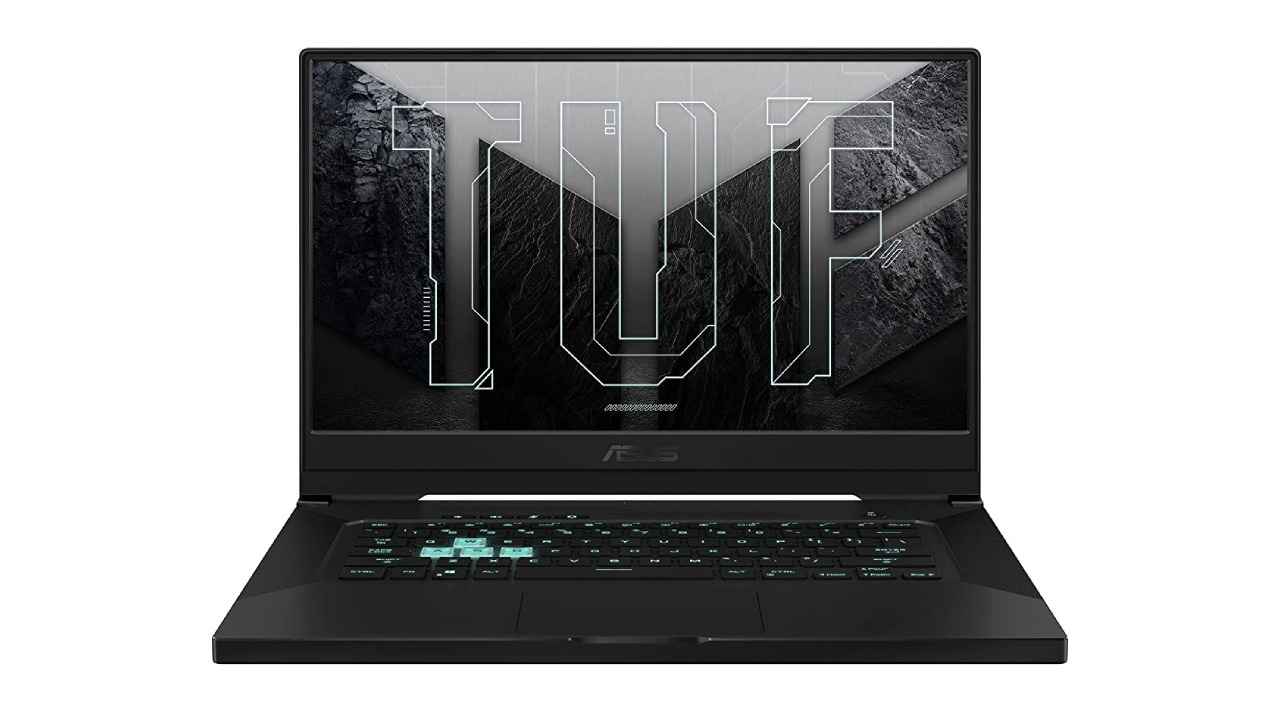 Gaming laptops need fast components, not just the graphics cards and the processors – they also need fast storage and memory. Having fast SSD storage is the way to go these days as it is a lot more efficient than traditional hard disk drives, which improves gaming performance by cutting down on screen load time and getting you to the heart of your game faster. Having an SSD is also beneficial for everyday use – it will help your laptop boot up faster and quickly open up files and applications on the storage drive. SSDs are also highly reliable and make laptops last longer while maintaining a level of speed and responsiveness. So, here are some of the top gaming laptops with a 1TB SSD that you can find on Amazon.
ASUS TUF Dash F15 (2021) FX516PE-HN088TS
This is a power-packed thin, and lightweight gaming laptop. Despite its slimness, it packs in a host of capable hardware. Specifications include an Intel i7 11th generation CPU, an RTX 3050Ti graphics card, 16GB of RAM and 1TB of SSD storage. Combined, the internals do a great job of delivering high frame rates in demanding high-end games, including GPU intensive open-world games and competitive multiplayer games. The laptop has a 15.6-inch screen, which is standard for most gaming laptops, but the screen also supports a 144Hz high refresh rate, which ensures that games feel smooth and you make the most of FPS titles.
Dell G5 5505 D560324WIN9B
If you're a casual laptop user who also intends to play games on a laptop every now and then, this laptop is a great pick for you. The internal components are powerful – not just for gaming, but for other intensive tasks such as data management, 3D modelling, designing, photo and video editing, and more. The laptop houses an Intel i7 10th generation processor, which holds up in performance compared to the new generation processors. To power your gaming worlds, the laptop packs in a GTX 1650Ti graphics card, which though not the most powerful on the market, is still quite popular and capable. Casual gamers aren't going to find fault with the performance of this GPU. The laptop also packs in 8GB of RAM and a 1TB SSD for the smooth operation of the system and games, backed by a 144Hz refresh rate screen.
Lenovo Legion 5Pi 82AW006SIN
This gaming laptop puts a focus on cooling and high performance even down the line. It has a large chassis with big air vents that point downwards and towards the back, expelling large amounts of heat generated by the CPU and GPU, especially while gaming. Owing to this airflow centric design, you can expect it to perform great even after a few years of use. The internals are pretty impressive, too – there's a 10th generation Intel i7 processor, an RTX 2060 GPU with 6GB of GDDR6 VRAM, 16GB of RAM and a 1TB SSD to top it all off. No matter what your requirements, the laptop's performance won't let you down. What's even better is that it has a full HD display with a 144Hz refresh rate. Also, the laptop has a gamer-centric design, which is well implemented and very appealing.
ASUS ROG Strix Scar 15 (2020) G532LW-AZ056T
Here is one of the most powerful gaming laptops in the market. It has a 240Hz display, very capable internal components and a natural knack for providing users with high frame rate gaming. These components include an Intel i7 10th generation processor, which is well known for its good gaming performance, RTX 2070 GPU along with 8GB of VRAM ensuring that all games run smoothly and without a hitch, providing you high frame rates and eye-catching graphics, a 1TB SSD and 16GB of RAM for lag-free gameplay. The laptop screen is quite impressive, too, so you can enjoy your gaming experience to the fullest. It is a 15.6-inch full HD screen with a refresh rate of 240Hz. This means that games will appear butter-smooth on your laptop, a trait that is handy when playing online multiplayer games.