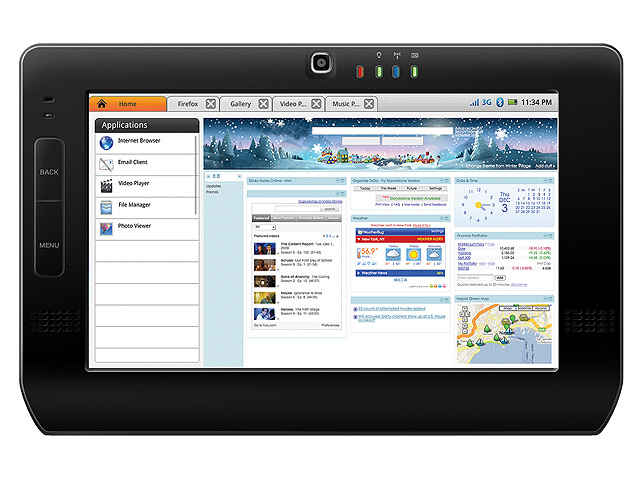 Portable computing is about to start a whole new chapter as new ARM based computers begin to emerge. These new devices will be cheaper, and consume less energy than their Atom counterparts, the caveat, they wont run Windows XP / Vista / 7.

Freescale has recently showcased a $199 tablet PC which runs on a based processor. The device was demoed with a 7" touch screen (resistive) and running a browser based OS similar to Chrome OS, however since many Linux distributions, including Ubuntu, are available for the ARM chipset, the Netbook could possibly run any of those. The device will include a media player, and a browser with Flash 10.1 support.

The device will run on a 1GHz i.MX51 processor which is based on Cortex A8, it will have 512MB DDR2 RAM, upto 64GB SSD drive, WiFi, Bluetooth, GPS, microphone, SD card reader, 3MP webcam, accelerometer, light sensor, and with a SIM card slot, optional 3G support. It will also feature 3D and vector graphics processor and will be capable of playing back HD content at 720p. The device will also last as much as 8hours on battery.

According to Freescale, this reference design can be refactored by any OEM into their own product and brought to market in as few as six months. Even if it takes longer it is quite probably that we will see a new range of ARM based netbooks, and tablets in the marker in the coming years.

A majority of the embedded devices that are in use today, from smartphones and portable media players to electronic calculators use ARM based processors, and as devices emerge which cater to needs between our smartphones and laptops, ARM and x86 both become relevant. Even so, Glen Burchers, director global marketing at Freescale does not believe that ARM will compete as much with x86 with the aim to replace it, there is enough room in the market for both platforms to coexist.