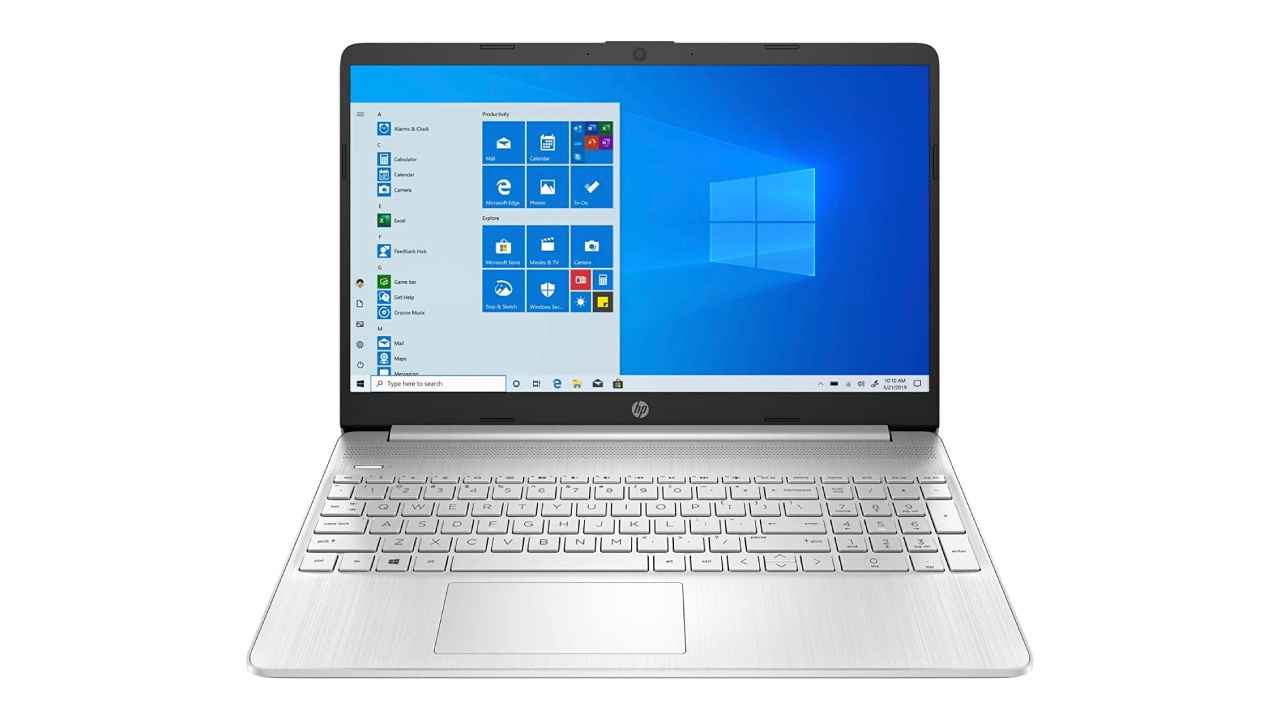 Students need a versatile laptop system as they have to work on the go, get tasks done quickly, watch content wherever they are, and even play the occasional game. All-in-all, the student's laptop is a pandora's box of information and data which must be accessed quickly, and seamlessly. Student laptops also need to have great keyboards which can help them type fast and take down notes efficiently. So, here are some of the best laptops for students available on Amazon.
HP 15 (15s-fr2006TU)
Here's a full-sized 15.6-inch laptop from HP which comes with a host of features geared towards students. These include MS Office applications such as Word, Excel, Powerpoint – three of the most commonly used apps by students. The full-sized keyboard, along with the number pad makes for a great typing experience, something which goes a long way when it comes to laptops for students. It also features front firing speakers, which make for a richer audio and visual experience. Under the hood, the Intel Core i3, 8GB of RAM and 512GB SSD should more than suffice when it comes to handling basic tasks.
Mi Notebook Horizon Edition 14
When it comes to compact laptops, this 14-inch Mi Notebook is quite a good pick for students. It manages to have capable internals which make short work of running classroom applications, online classes, and project focused apps. Since it's quite portable, you can even get things done on the go, and this is augmented by the claimed 10 hour battery life. Furthermore, it features a spacious keyboard, smart unlock features, and a host of connectivity ports. The Intel Core i7 processor ensures you can do more than just classwork. Other features include Stereo Speakers with DTS Audio Processing, 512 GB PCIE NVMe SSD, and 8GB DDR4 RAM.
ASUS VivoBook 14 (2021)
The Asus Vivobook is a great budget friendly laptop for students. Despite its large 14-inch screen, the laptop manages to keep a thin and lightweight design, which should come in handy for really busy kids who happen to be working while running from class to class. Not just that, it makes the whole ordeal of carrying the laptop with you a whole lot easier. A neat benefit of the large size is that the laptop features a great keyboard – a must for students and those who need to type a lot. Under the hood, the laptop packs enough specs to power a student's workflow – an Intel Core i3 processor (11th gen), 8GB RAM and 256GB SSD storage.
HP Chromebook x360 (12b-ca0010TU)
Modern day students mostly spend time online, and have internet connectivity at most places they use their laptops. This is why a Chromebook can be a great pick for students. Since a Chromebook uses online applications that Google's servers do the number crunching for, they don't require the most powerful internal specifications. This reduced hardware demand has the very desirable side effect of Chromebooks being a lot cheaper than traditional laptops. This HP Chromebook is lightweight and can handle its area of expertise with ease. The laptop features a 2-in-1 form factor as well, along with 64GB of Memory card storage. Since most of your data is going to be on the cloud anyway, you just need something that's compact and has a long battery life – and this Chromebook is exactly that.