An article announcing the latest ultra-compact flash drives introduced by Buffalo Technology...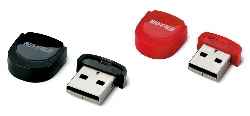 Buffalo Technology has announced the launch of four ultra-compact flash drives today, of the USB RUF2 PSG type, which also feature AES encryption software. The Buffalo USB flash drives really are super small, and about the size of a thumbnail, including the jack itself!
Meant for users who require mobility, the USB RUF2 PSG flash drives can be left plugged in at all times, with no worries of it getting damaged or hampering the portability of your laptop.
Buffalo also claims that the USB RUF2 PSG flash drives have 20% faster transfer speeds than their conventional counterparts, with Turbo PC technology. Security is ensured by Secure Lock AES technology.
The Windows 7 compatible flash drives are available in four capacities, and come in three colours: black, red, and white. They come with one year warranty.
2GB for Rs. 700
4GB for Rs. 1,000
8GB for Rs. 1,600
16GB for Rs. 3,200