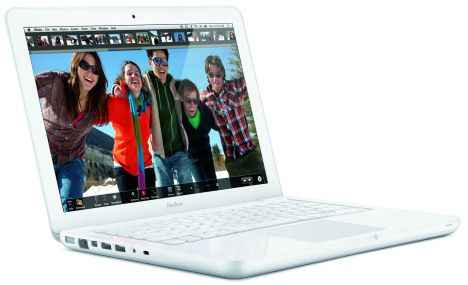 As was reported
earlier
, Apple renovated its lowest-end 'plastic' MacBook with a new unibody design that includes the new built-in battery offering up to seven hours of battery life – all for $999 (Rs. 46,400 approx).
The durable polycarbonate material uses the same techniques as the higher-end aluminium MacBook Pros. It feels more solid than the old MacBook, with a nicely rigid keyboard and zero flex when you pick it up by a corner, according to
Engadget
.
Along with a glass multi-touch trackpad, the device features a 13-inch LED-backlit display, 2.2GHz Intel Core2Duo processor, 2GB RAM, Nvidia GeForce 9400GM onboard graphics, 250GB hard drive and 8x SuperDrive.
"The surface is super slick (AKA super fingerprint friendly), though the base of the laptop utilizes a soft-touch, non-slip surface that's nice to handle. Ports are looking pretty dismal – there's no FireWire, no SD card slot, no dedicated line-in. Instead you get just two USB 2.0 ports, Ethernet, Mini DisplayPort, and a combo headphone / line-in jack. That's pretty weak in a thousand-dollar machine," says Engadget.
Gizmodo
, meanwhile, didn't seem too happy with the new design, noting that the uniformly white bezel makes it look chunky, and it feels fatter than the last-gen MacBook.
"The eight screws in the base complement the finish on the aluminum MacBook well; here, they stand out, and look kinda ugly," Gizmodo says.
Moreover, they note that the rubber base could make airflow a bit of a problem, leading to heat issues.