Acer's new Chromebook lineup have Chrome OS running and have access to Google Assistant for hands-free operation
Acer has launched the all-new Chromebook lineup consisting of four new Chromebooks in three different sizes which, according to company claims, provides a package of performance, portability and battery life. The devices are powered by dual-core Intel Celeron N4100 processors and Chrome OS. The Chromebook 315 also has a variant powered by the more powerful Intel Pentium Silver N5000 processor.
According to Acer, the devices can last all day and go well into the evening without having to be topped up. The Acer Chromebook 315 offers a battery life of 12.5 hours.
All four models also include two USB 3.1 Type-C Gen 1 ports, which are placed on either side of the laptop, so that users can charge the devices conveniently. These ports can also be utilised to charge other products, transfer data and connect to a display. Additionally, they also feature two USB 3.1 ports and a MicroSD card reader.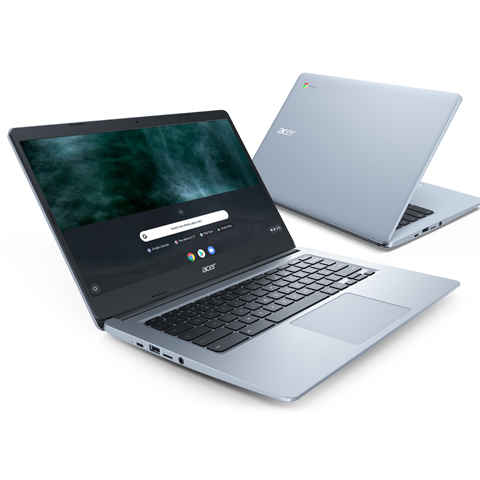 The Chromebooks are also adorned with a front-facing HD webcam, and one of the models - the convertible Acer Chromebook Spin 311 also has a "world-facing cam" which allows users to capture 1080p video. They all feature fanless designs and moisture-resistant touchpads as well.
Additionally, the Chromebooks come equipped with Intel Gigabit WiFi and an 802.11ac wireless antenna along with a 2x2 MU-MIMO which provides fast wireless connection. Bluetooth 5.0 has also found its way onto this lineup to allow users to connect to their peripherals easily and reliably.
The Acer Chromebook 314 will cost Rs 42,000 and will be available in December. This model houses a 14-inch Full HD (1920x1080) anti-glare display with thin bezels equipped with IPS1 technology as well as wide viewing angles. Users also get to choose between touch and non-touch models.
The Acer Chromebook 315 is configurable with up to 128GB eMMC storage and up to 8GB of dual-channel RAM.
All the models can also connect to Google Assistant which allows for tasks to be completely completely hands-free. The Assistant can be activated by saying "Hey Google".
Additionally, the Chromebooks allow for multiple user sign-ins, making them good options for families to use conjointly. Chrome OS offers speedy boot times of approximately 8 seconds and automatically updates to the latest version as well. The Chromebooks will also have Google Play integration at launch.