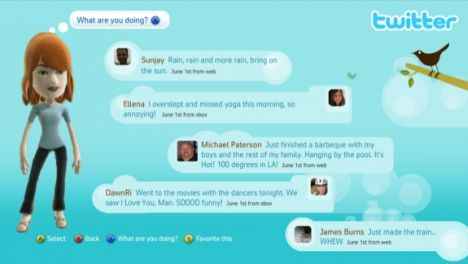 Just yesterday, we told you how Sony's PlayStation 3 will feature Facebook integration soon, in the next 3.10 firmware update. But Microsoft has beaten its rival in the social-networking game by releasing full integration with Facebook and Twitter for all Xbox Live users on Tuesday.
The new update has custom-made Facebook and Twitter clients for the Xbox 360 dashboard. In fact, PC World says that Twitter's interface is "even more elegant" than the default one in a normal browser.
Facebook has some features activated on the X360, although others are still missing. What users will get are friends lists, status updates and photo albums in a whole new X360-style interface. The major missing features include videos, casual games and Facebook apps.
One annoying feature is the limitation on the number of friends you can have, notes GameGuru. The Facebook integration for the X360 currently supports only 100 friends at a time, which is quite a silly oversight by Microsoft, we think.
However, neither Twitter nor Facebook will allow you to access the service through the in-game dashboard pop-up. The game needs to be quit and the user needs to fire up the respective application to access it – quite a downer, if you ask us.
Although not related to social networking, the new update also includes Last.FM and Zune Video integration.