THOR: Son of Asgard, the game-based on the Marvel super hero Thor is free to download for a limited time from Apple's App Store. The game was originally priced at $2.99 (Rs. 165).
In THOR: Son of Asgard you play as the Mighty Thor and defend Odin's Kingdom of Asgard from her enemies! 

The game features HD graphics optimized for the Retina Display of the third gen iPad. Asgard is under siege from forces both inside and outside its walls.
Famed Thor allies like Sif and the Warriors Three join Thor as he faces fearsome enemies like Dark Elves, Trolls, Ulik and the Midgard Serpent.

Gamers can channel the power of lightning to unleash devastating magical attacks against their enemies. Throw Mjolnir for long-range strikes. Gamers can also navigate the diverse environments of Jotunheim, Alfeim, and Asgard to solve the mystery of the invasion and rescue Sif from her captors.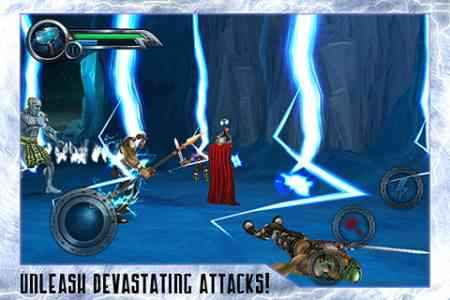 If you are interested in picking up THOR: Son of Asgard for iOS you can download it here.
It seems that the game has been made free to play in order to promote Marvel's latest game, the Avengers Initiative that has launched for Android and iOS. Avengers Initiative has been priced at $6.99 (Rs. 387 approx.). iOS users can download the Avengers Initiative here and Android users can download it from the Google Play store here.
The Avengers Initiative is compatible with selected Android devices - HTC One X, HTC Evo 4g, HTC Incredible 4G,
 LG G2x, 
LG Nitro HD, 
Motorola Droid 3, 
Motorola Droid RAZR, 
Motorola Droid Charge, 
Motorola Atrix 4G,
 Motorola Photon Q 4G, 
Samsung Galaxy Nexus, 
Samsung Galaxy S II, 
Samsung Galaxy S III, 
Samsung Galaxy Note, 
Samsung Galaxy Tab 10.1, 
Samsung Galaxy Tab 7.7, 
Google Nexus 7, 
Asus Transformer Prime and the 
Asus Transformer.