The sequel to one of the most addictive running game, Temple Run, is now amongst us. Conveniently called Temple Run 2, the game is available on iOS now and will be available for Android devices next week (bummer!). The game can be downloaded for free for iOS.
Temple Run 2 brings with it a bunch of new features such as navigating perilous cliffs, zip lines, mines and forests as you try to escape with the cursed idol. The question remains, how far can you run?
The premise of Temple Run 2 is essentially the same as its predecessor. You have stolen the golden idol and must run as far away from the monkey as possible. There are many obstacles that will plague your path and you must swipe and tilt your device to avoid them. The addition of a zip line, twisting paths and a cart are definite improvements. Veteran fans of the franchise will feel right at home and the game is easy to pick up and play for new comers as well.
The game brings with is a slew of new features such as beautiful new graphics
, gorgeous new organic environments, new obstacles
, more power ups
, more achievements
, special powers for each character
, and of course, a bigger monkey chasing you.
Even though the game is called Temple Run 2, it isn't the second Temple Run game to hit iOS and Android devices. When the animated movie, Brave, released we saw a Temple Run game release that revolved around the movie. The game was titled Temple Run Brave and is available for $0.99 on the Apple App Store. You can check it out here.
If you like running games for your Android and iOS device, you can check out our top five running games for the mobile platform here.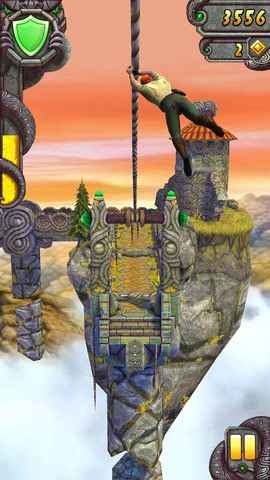 Temple Run 2 is compatible with the iPhone 3GS, iPhone 4, iPhone 4S, iPhone 5, iPod touch (3rd generation), iPod touch (4th generation), iPod touch (5th generation) and iPad. It requires iOS 4.2 or later to work. You can download the game from the iTunes App store here.