Sony has officially announced the PlayStation Vita TV, a 6 x 10 cm console that plays Vita games on the television.
The PS Vita TV is based on PS Vita hardware, supposedly the smallest PlayStation hardware ever. It also allows you to play PSP and PS1 games, along with access to an array of entertainment services and PS4 cross functionality.
The concept of the PS Vita TV is to let you play Vita games on a bigger screen using a Dualshock 3 controller, however it has much more to it. The PS Vita TV has a card slot for Vita games, and is compatible with Vita memory cards. It also allows you to use video streaming services ( such as Hulu) and more. Like the Vita, Vita TV also allows you to play your PlayStation 4 via Remote Play with DualShock 4, however this functionality will come later via system update.
Sony has also announced the PlayStation 4 will be launched in Japan months later than the rest of the world, the PSVita TV seems to be a promising prospect for the region. Keeping in mind that the Japanese market off-late has been dominated by handhelds such as the PSP and 3DS.
The Vita TV launches in Japan on November 14th and will be available at a price of 9,480 yen ($95). There is also a bundle that includes a DualShock 3 controller and 8 GB Vita memory card for 14,994 yen ($150) after tax.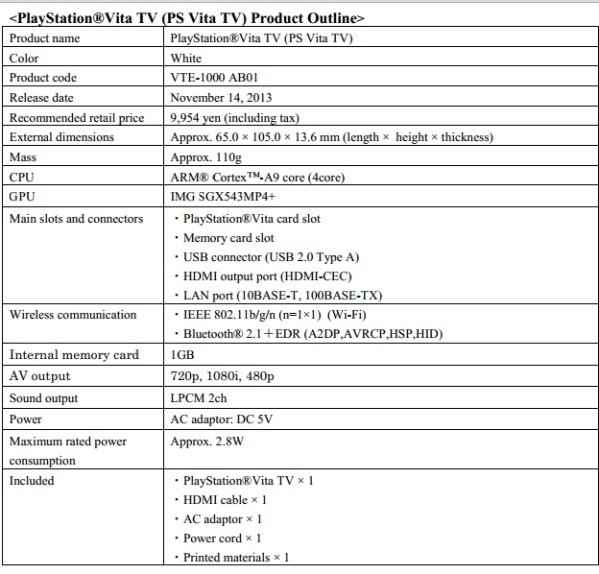 The PS Vita TV could turn out to be serious competitor for the Apple TV when it comes to pricing while offering more stout gaming options. It will eventually be launched in the west, though an exact release date as well as pricing is still unknown.
Source: Joystiq