Nvidia's light at the end of the tunnel - its Fermi cards - the GeForce GTX 480 and 470 are finally out, and Ryan Smith of Anandtech has benchmarked them. The results are not as one-sided as one would have thought.
The two cards were benchmarked against their ATI counterparts, the ATI Radeon HD 5870 and HD 5850 (on the newest ATI Catalyst 10.3 Drivers) on a variety of parameters and tests, from Tessellation to PhysX, Compute, Image Quality and AA, and such games as Crysis:Warhead, BattleForge (DX10 and 11), Tom Clancy's H.A.W.X, Left 4 Dead 2, Battlefield: Bad Company 2 (DX11), Dirt 2 (DX11), Stalker: Call of Pripyat, Mass Effect 2, and Wolfenstein, as well as testing its temperature, noise and power figures.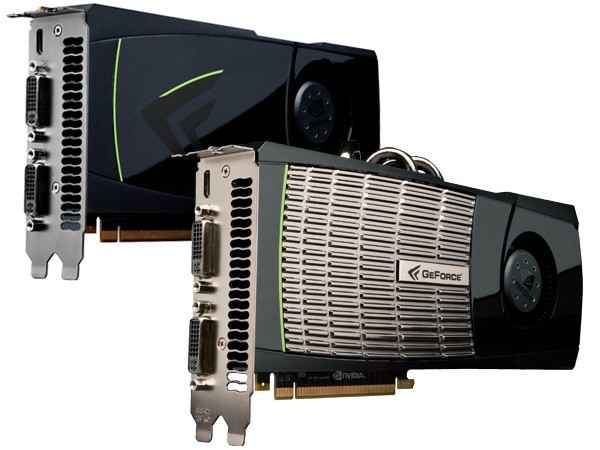 On average (in terms of game frame per second benchmarks) and , the Nvidia GeForce GTX 480 beat its single-GPU contemporary the ATI Radeon HD 5870 by about 15%, while the GeForce GTX 470 beat its contemporary, the Radeon HD 5850 by about 8%.
| | |
| --- | --- |
| | |
While this might seem like a complete and utter victory over AMD ATI, when one takes into account the price, temperature, noise and power figures, you will realize that all that performance simply doesn't outweigh the price for most people. The cards are simply too hot, loud, and power-hungry, apart from being a lot more expensive than their counterparts. However, this is Nvidia's first iteration of its Fermi design, and who knows what it will bring next? AMD is also ready to up the game, with a 2GB HD 5870 on the cards, and a rumour of a higher-clocked version. See a comparison of the prices below (including the massive record-breaking dual-GPU, the HD 5970, which some people think should be compared against the GTX 480 as top-end versus top-end, where the HD 5970 comes out ahead):
HD5970 - 599$
GTX480 - 499$
HD5870 - 399$
GTX470 - 349$
HD5850 - 299$
It's safe to say that at the price difference between the products, you are safer off buying the ATI Radeon HD 5000 series for the most bang for your buck. The Nvidia GeForce GTX 480 and 470 will be shipping after April 12th.