After what was certainly a rather long period of understanding the changing market, Nvidia has made a rather big announcement. In a blog post by David Shannon, executive vice president, general counsel and secretary of Nvidia, has announced that the company will now open up its Kepler GPU tech for partners to work on, in effect licensing the technology for deployment in the Android smartphone and tablet market. It is clear that Nvidia realizes that in the ever growing ecosystem, just the Tegra chips will not really do.
The blog post says, "So, our next step is to license our GPU cores and visual computing patent portfolio to device manufacturers to serve the needs of a large piece of the market. The reality is that we've done this in the past. We licensed an earlier GPU core to Sony for the Playstation 3. And we receive more than $250 million a year from Intel as a license fee for our visual computing patents. Now, the explosion of Android devices presents an unprecedented opportunity to accelerate this effort."
"We'll start by licensing the GPU core based on the NVIDIA Kepler architecture, the world's most advanced, most efficient GPU. Its DX11, OpenGL 4.3, and GPGPU capabilities, along with vastly superior performance and efficiency, create a new class of licensable GPU cores. Through our efforts designing Tegra into mobile devices, we've gained valuable experience designing for the smallest power envelopes. As a result, Kepler can operate in a half-watt power envelope, making it scalable from smartphones to supercomputers."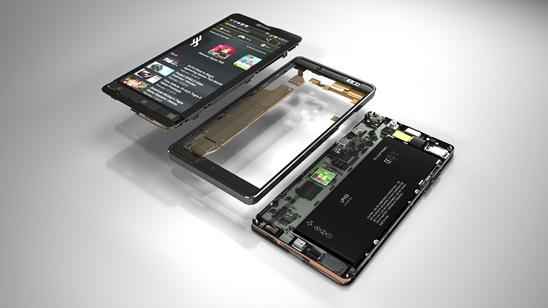 NVIDIA's Phoenix Reference Smartphone Platform With Tegra 4i
Kepler is the foundation on which the GeForce, Quadro and Tesla GPUs work, and is also the starting point from which Logan is being built. Logan is the next-gen Tegra chip that is in the works.
Essentially, Nvidia realizes that it needs to grab a major foothold in the portables market – the smartphone and the tablets, because of the ever dropping PC market.
Source: Nvidia