Guerrilla Games has officially announced that KillZone: Shadow Fall is complete and all set for shipping. Angie Smets and game director Steven Ter Heide confirmed on Twitter that Shadow Fall's development is over and is ready for printing and shipment.
Ter Heide also revealed some info regarding the campaign, "should last well over 10 hours for most gamers" and that multiplayer will run "with dedicated servers to handle the transfer of data between clients", in a post on the PlayStation Blog.
As we are nearing the launch of the PS4, it means that the game will be ready alongside the next gen console's launch this November 15. This is some good news as over the week, a few launch titles including Watch Dogs, The Crew and DriveClub have been delayed for the year 2014.
Guerilla also unveiled a new teaser trailer giving us a peek on what to expect in terms of the game's story. The new trailer certainly looks gorgeous. Shadow Fall is a very different place, set 30 years after the events of KillZone trilogy. We step into the shoes of the Shadow Marshal who is maintaining order in a new world where Helghast and Vetkans live side by side divided by a massive wall in a futuristic city.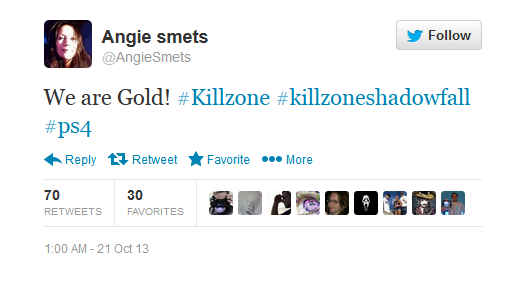 KillZone: Shadow Fall will be launched in North America on November 15. India launch dates are not yet confirmed, though you can pre-order Shadow Fall here.
Watch the new trailer for KillZone: Shadow Fall below.