HP Inc. announced a definitive agreement to acquire HyperX, the gaming division of Kingston Technology Company, for USD 425 million. This acquisition will include Kingston's HyperX portfolio which consists of gaming peripherals such as gaming keyboards, mice, headsets, mouse pads, microphones and console accessories. Kingston will retain the SSD, flash and DRAM business which also serves enthusiasts and gamers. The existing SSD, flash and DRAM models under the HyperX brand could either be moved to the Kingston brand or we might see a new brand being announced by Kingston. As of now, little is known about this. HP has its own line of gaming products under the HP Omen (also written as Omen by HP Gaming) brand which primarily consists of gaming laptops and desktop PCs, and also has peripherals. Although, the peripherals don't have the same recognition as HyperX.
HP Omen + HyperX
HP acquired VoodooPC, an enthusiast PC brand and company in 2006 and later dropped the VoodooPC branding in 2013 to introduce the Omen brand. Recently, HP even underwent a rebranding exercise in 2020 for the OMEN brand which included a new logo and design language across the product portfolio. With this new acquisition, HP now has a much wider portfolio of gaming peripherals with hardware that's more in line with what gamers and enthusiasts prefer.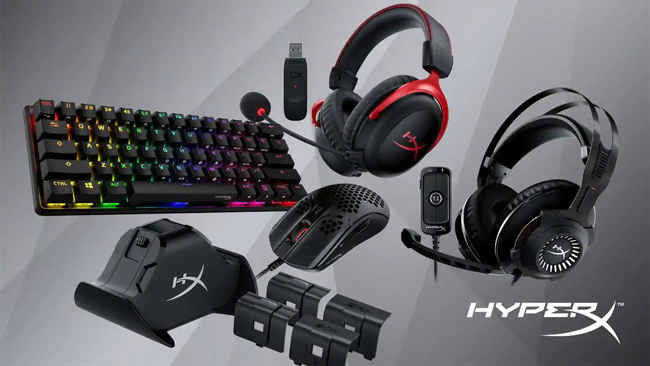 PC Gaming has grown by leaps and bounds over the past few years and 2020 saw consumers spending USD 4.5 billion on PC hardware and accessories. This was a 62% increase over 2019 and more than twice as much of 2017, as per a report by NPD Group. The peripherals market alone is expected to grow to USD 12.2 billion by 2024, of which gaming peripherals form a large portion.
"HyperX is a leader in peripherals whose technology is trusted by gamers around the world and we're thrilled to welcome their outstanding team to the HP family," said Enrique Lores, President and CEO, HP Inc. "We continue to advance our leadership in Personal Systems by modernizing compute experiences and expanding into valuable adjacencies. We see significant opportunities in the large and growing peripherals market, and the addition of HyperX to our portfolio will drive new sources of innovation and growth for our business."
"HyperX products are designed to meet the most rigorous demands of all gamers – from casual to the most hardcore – giving them a winning edge and helping them stay on top of their game," said John Tu, Co-founder and CEO, Kingston. "Both of our companies thrive because we focus on our employees and share the same core values and culture. David Sun (Co-founder and COO) and I saw the possibilities for the HyperX business and its employees and we both realized that this change brings a brighter future for HyperX."
Acquisition for USD 425 million
As per the acquisition agreement, HP will pay $425 million to acquire HyperX's gaming peripherals portfolio. As mentioned earlier, Kingston will retain the DRAM, flash, and SSD products which also serve gamers and enthusiasts. The transaction process is expected to be completed by the end of calendar Q2 2021.