Social gaming was one of the big Internet trends this year. Social networking giant Facebook has been a destination for casual gaming for a long time, perhaps one of the major factors behind massive popularity of the site. Facebook has released its list of the most popular games for the year 2011. In what may come as a surprise for many, Playdom's Gardens of Time has been named as the most popular game on the social networking site. Disney-owned Garden of Times has toppled Zynga's Cityville for the top spot.
In the update announcing the list, Facebook says, "In 2011, people loved playing hidden object, simulation, and casino-related games with their friends on Facebook." EA's The Sims Social virtual world game was given the second spot, and was followed by Zynga's most popular app, CityVille. Zynga, however, managed the fifth, sixth and eighth spots with its adventure games Indiana Jones Adventure World, Words With Friends and Empire and Allies respectively. Gambling games such as DoubleDown Casino, Bingo Blitz, and Slotomania-Slot Machines also made to the list.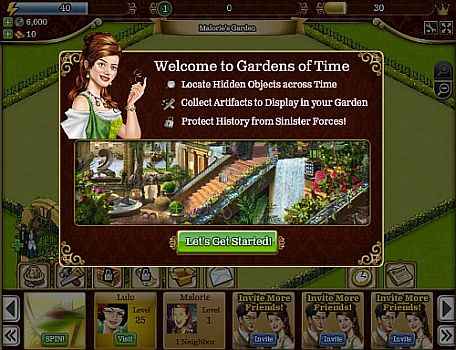 However, the new ranking has not gone down well, with many criticising Facebook for not putting CityVille on the top spot. The TechCrunch in its blog went on to dub the move as a "snub", while many analysts say Facebook have wanted to promote its recommendation tools. Other tech sites have also referred to the recent figures released by AppData.com. The AppData said in its data that CityVille was the most popular game on the social networking site with 48.8 million monthly active users. It's notable that the Garden of Times was listed well down in the list with 8.5 million monthly active users. Facebook has not yet responded to the criticism. Meanwhile, check out below the top 10 Facebook games for 2011.
Most popular Facebook games in 2011:
1. Gardens of Time (By Playdom)
2. The Sims Social (By EA)
3. Cityville (By Zynga)
4. DoubleDown Casino (by DoubleDown Interactive)
5. Indiana Jones Adventure World (By Zynga)
6. Words With Friends (By Zynga)
7. Bingo Blitz (By Buffalo Studios)
8. Empires & Allies (By Zynga)
9. Slotomania-Slot Machines (By Playtika)
10. Diamond Dash (By wooga)
Also read,

Vote and Win!

Digit Icons of Trust 2011 Survey

Visit http://thinkdigit.com/trust to vote for your favorite tech brands in India.
Survey participation gives you a chance to win exciting gifts like wireless input devices, earphones and special edition Digit branded T-shirts.
As an appreciation of your valuable time and input, every participant will receive an assured gift in the form of Digit discount vouchers.
We encourage you to participate in multiple surveys to increase your chances of winning more goodies.