It's confirmed, Star Wars-themed Angry Birds is going to launch next month. Rovio has posted a video trailer of the forthcoming 'Angry Birds Star Wars' game, which confirms November 8 as the release date.
In Angry Birds Star Wars, the birds and pigs alike will take on the personalities of characters from the Star Wars saga. The game will follow the mold of the recently launched Angry Birds Space, with planets from the "Star Wars" universe having their own gravitational fields, and different environmental conditions such as the desert of Tatooine and the freezing cold of Hoth.
"Both Star Wars and Angry Birds share the instant and irresistible appeal of hands-on fun," said Colum Slevin, Vice President, Head of Studio Operations for Lucasfilm Ltd. "People seem to instinctively know what to do when handed a lightsaber or a bird in a slingshot, so this is a natural combination."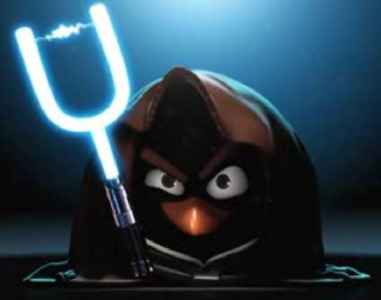 "We wanted this to feel like one of the biggest, if not the biggest, entertainment launches of the year," Rovio Executive Vice President of strategic partnerships Andrew Stalbow said.
Rovio has also teamed up with Hasbro to launch a range of Angry Birds Star Wars toys, which includes figurines, plush dolls, play sets and a new version of Jenga. Rovio also collaborated with Rubie's Costume Company to create four Halloween costumes based on the beaked versions of Luke Skywalker, Princess Leia, Darth Vader, and a Stormtrooper.
Angry Birds Star Wars will be releasing on all major platforms including iOS, Android, Kindle Fire, Mac, PC,Windows 8, and Windows Phone 8. For more information about Angry Birds Star Wars, visit www.angrybirds.com/starwars and watch the trailer below: