Bungie, the developer of such famous game series as Halo, Myth, and legendary Marathon, has now signed a 10-year deal with Activision to make them their exclusive publisher across all platforms. Bungie's game titles have sold more than 25 million units worldwide, and its Halo games have generated about $1.5 billion in revenue, according to The NPD Group.
Ironically, the deal is very similar to what West and Zampella, the former and tragically estranged Infinity Ward heads, have signed with Electronic Arts for their new studio, Respawn Entertainment, allowing Bungie to keep its IP.
This apparently is the one factor that made the deal sound attractive to Bungie. As Bungie Community Director said: "I can tell you that we at Bungie weren't too worried about the whole [Infinity Ward] thing, because we're independent and we have a solid deal...the key difference between us and Infinity Ward is that we are independent, we will keep our own IP, so I wouldn't say it was concerning...[we were] just a little concerned about the landscape and the timing – things are a little volatile right now, but ultimately we got a great deal that aligns perfectly with what Bungie wants to achieve."
Microsoft dealt with the entire thing quite amicably, saying: "Our partnership with Bungie as a first-party developer for the Xbox 360 remains unchanged. Right now we're deeply engaged with them on the development of Halo: Reach."
Bungie's President, Harold Ryan, had this to say about the alliance: "The groundbreaking alliance [with Activision] will provide Bungie its first such partnership since splitting off from Microsoft in 2007, significantly broadening its global reach by providing the resources and support to develop, distribute and release games worldwide on multiple platforms and devices."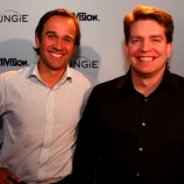 Activision Blizzard's COO, Thomas Tippl, said this about the new partnership: "Bungie is one of the premier studios in our industry and we are extremely pleased to have the opportunity to work with their talented team over the next decade…Our unprecedented partnership with Bungie will enable us to broaden our pipeline of exciting new games as we continue to strengthen our industry position and pursue long-term growth opportunities."