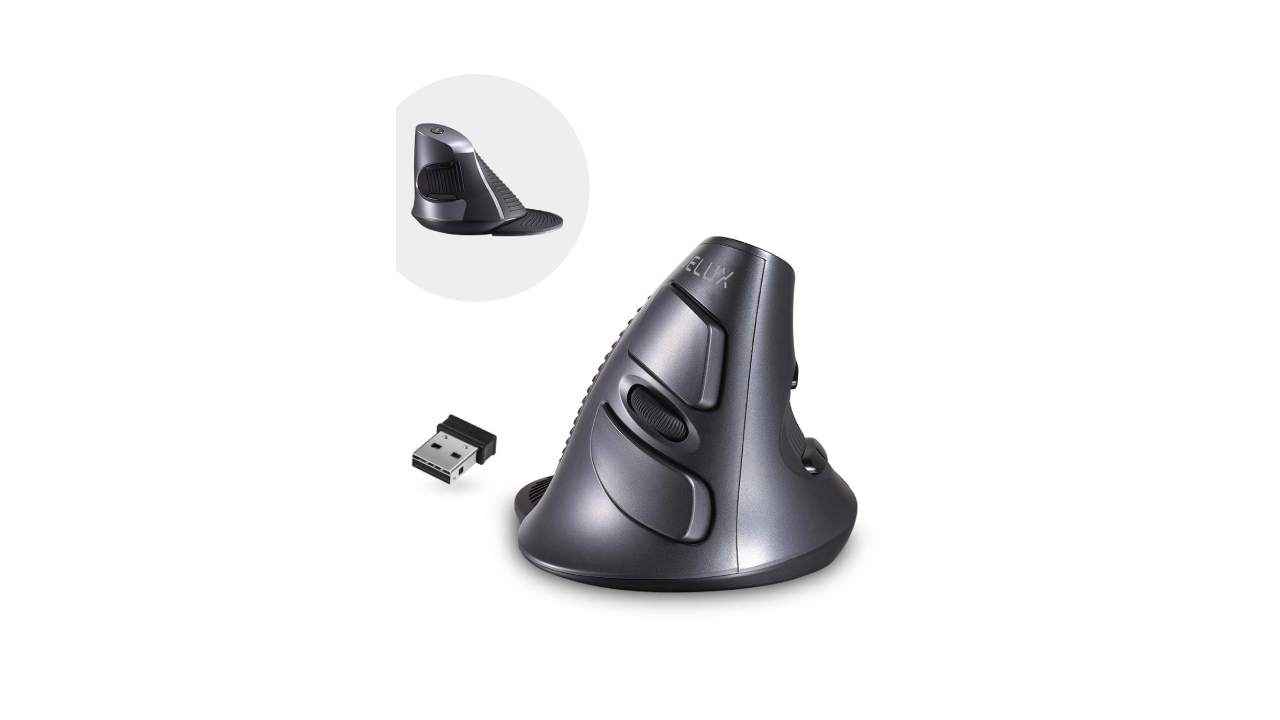 One of the perils of a modern lifestyle is bad posture. Our work sees us sit at a desk in front of a computer or a laptop for the longest time, often with one of our hands over a keyboard and mouse. While the humble desk mouse is a useful tool, it is not optimised for comfort. The vertical mouse, on the other hand, helps your arm remain in a more natural position during work and offers respite to the muscles and tendons in your wrist. To help you pick out your first vertical mouse, here are some products available on Amazon that have been selected based on their specifications and features.
J-Tech Digital Wireless Ergonomic Vertical Mouse
Especially suited for users with smaller hands, the J-Tech V628 is designed to provide maximum comfort to its users, especially over extended periods. It comes with a 2.4G USB transceiver that allows you to use this mouse wirelessly with your computer. Additionally, you can configure the sensitivity of the mouse by toggling between three DPI settings – 800, 1200 and 1600 – using the DPI button located near the Forward and Back buttons. As it uses a single AA battery, there's no waiting time for it to charge up after a drained battery – all you need is a battery replacement.
Perixx PERIMICE-513N
Featuring a six-button design with one scroll wheel, the Perimice-513N from Perixx offers enough controls even for power users. Its optical sensor aims to keep movement detection smooth and accurate. The mouse comes with a plug-and-play setup i.e. no complicated driver installation required. Additionally, the 1.8-metre long wire makes it easy for you to use it even if the connection port is under your desk. The design includes a high-quality rubber coating that helps make the overall experience more comfortable. At a lightweight 145g, the mouse is also easy to move around and offers a seamless experience every day.
Jelly Comb Bluetooth Ergonomic Mouse
With a max DPI setting of 2400, the Jelly Comb vertical mouse offers a good combination of performance and precision. You can also set the DPI to 1000 and 1600. As it supports Bluetooth as well as 2.4 GHz connectivity, it can be connected to two devices at the same time. This can help you save time when you need to switch systems – just press a button at the bottom of the mouse and a light indicates the current connectivity mode. The model also assures a long lifetime with up to 3 million clicks.
DeLUX Ergonomic Vertical 2.4G Wireless Optical Mouse
The DeLUX M618GX vertical mouse comes with an additional removable palm rest that can add to your ergonomic comfort as and when required. The rubber coating on the body of the mouse is textured to prevent slipping. Additionally, the design also features a special curved housing, thumb groove and soft-touch buttons, which add to your comfort while using it. At 87mm tall the mouse can be perfect for medium to large hand sizes. It supports connectivity via 2.4 GHz wireless connectivity for which you have to use the included USB dongle with the mouse.