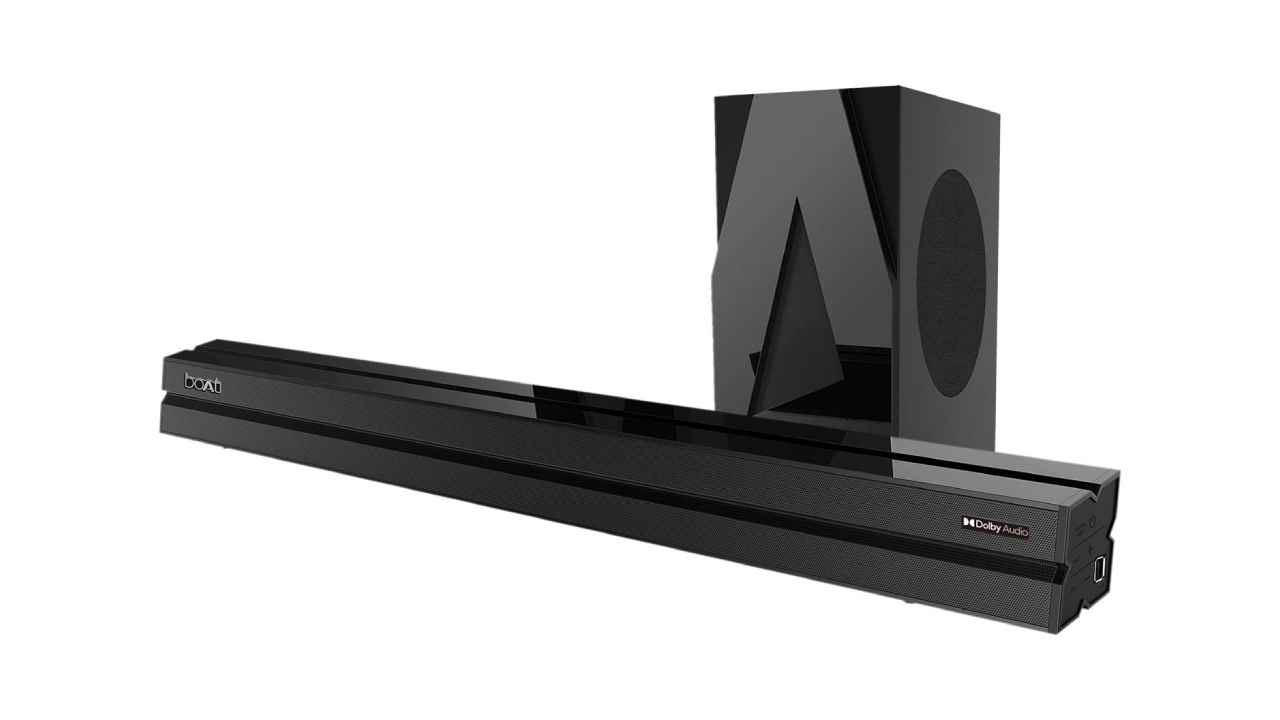 Even the best TVs need the right audio setup for a complete entertainment experience. If you have a 65-inch TV at home, your favourite shows and movies won't feel good enough without an equally impactful sound system. There are many soundbars available from leading manufacturers which are designed to complement your home entertainment setup perfectly. With features like ARC, Bluetooth connectivity and much more, a good soundbar takes your entertainment to the next level. Here are some models available on Amazon that offer a good combination of features and specifications.
JBL Cinema SB231
The 110W output of the JBL Cinema SB231 speaker delivers powerful audio for all your entertainment needs. The model supports Dolby Digital for highly immersive sound. While the subwoofer operates as a wired device for deep and impactful bass, the soundbar can also connect wirelessly using Bluetooth. Its HDMI ARC, one cable connectivity, makes it easy to set up and use. With wall-mounting brackets available out of the box, the model gives you the freedom to choose its placement according to your needs. Additionally, the soundbar also supports optical connectivity. A dedicated remote control makes it easy to control the soundbars features and sound levels.
boAt AAVANTE Bar 1700D
The dedicated 60W subwoofer with the boAt Aavante Bar 1700D promises punchy bass and powerful sound. Its 2.1 channel audio supports Dolby Audio which makes your audio experience come alive. The device also features multiple equaliser configurations such as Movie, News, Music and 3D to deliver optimised sound for any type of audio. With intuitive controls on the body and an easy to use remote control, the boAt soundbar promises a completely user-friendly experience. It features a Bluetooth range of 10m, allowing you to move around with your phone even when it's playing music on the soundbar.
Blaupunkt Germany's SBW-03
Packing 160W of audio power, the Blaupunkt SBW-03 can make a strong impact on your entertainment. With Dolby Audio support, you can also expect clear and rich outputs at all sound levels. The design features front air vents for the soundbar, which allows an unhindered flow of sound waves, resulting in crisper sound. Similarly, the vents on the woofer allow it to create loud distortion-free bass. This is further enhanced by the use of a 6.5-inch driver for the woofer. For connectivity, you get to choose between AUX, USB, Bluetooth, Optical and HDMI (ARC). The soft-touch buttons on the model make hands-on operation easier.
realme 100 W Bluetooth Soundbar
The body of the realme 100W soundbar is built with a premium metallic finish for durability and aesthetic appeal. It comprises a 60W full-range speaker setup and a 40W subwoofer to form a 2.1 channel. The speaker setup contains two full-range speakers and two high-frequency tweeters, each with a 2-inch driver and 15W of output power. The frequency range of the speaker is 50Hz to 24KHz, giving it the ability to produce deep bass using the 5.25-inch driver in the subwoofer. In addition to USB and HDMI, the realme soundbar also supports Optical and Coaxial inputs, giving you a wide range of options for connectivity.