Samsung India has introduced its 8000 series of LED televisions, along with a few new models for 7000 and 6000 series, bumping up its LED catalogue in the country to seven models.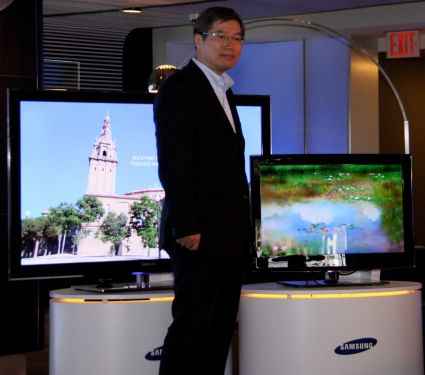 Mr J.S.Shin, President & CEO, Samsung South West Asia
at the launch of new Samsung LED TVs 8000 series
The 8000 series is the company's premium line-up of LED TVs, with the new model – 55B8000 – sporting a 55-inch screen.
These cutting edge TVs use LEDs as their primary light source, rather than traditional Cold Cathode Fluorescent Lamps (CCFL). Benefits of using LEDs include ultra-high contrast ratios, slim depths that allow for more artful designs, plus increased energy savings.
The key features are:
1)
Picture Clarity: Each of the three Samsung LED HDTV Series feature high dynamic contrast ratios, producing darker blacks and brighter whites for vivid colour ranges. The Ultra Clear Panel also allows light to pass through the screen, thus reducing reflection from ambient light.
All three series also have high refresh rates to reduce ghosting, thus making them ideal for video games too. The 8000 Series boasts of a refresh rate of 200Hz, while the 7000 and 6000 Series reach rates of 100Hz.
2)
Slimness: By using Edge LED technology, Samsung has been able to shave the thickness of all three series down to ultra-thin depths of just 1.16 inches.
3)
Design: Samsung's Crystal design begins with a deep piano black bezel that fades into distinct chrome that finishes as a clear prism along the outer edges (8000 Series ) or light ruby highlights (7000 and 6000 Series). The intensity of the colour subtly changes depending upon the viewing angle, and further accentuates these TV's slim bezels.
4)
Connectivity: Samsung's LED HDTVs can connect to a variety of other devices and play content with ease, through USB 2.0 and HDMI ports. The DLNA Wireless feature in the 7000 and 8000 Series also lets the user seamlessly watch content from the PC without any wires or cables.
5)
Pre-loaded Content: The Samsung LED TVs come with a built in Content Library Flash which includes pre loaded content and lets users enjoy all cultural experiences including galleries, Games, cooking to yoga.
6)
Eco Friendly: Energy consumption in the Samsung LED TVs is reduced by over 40 per cent as compared to traditional LCD HDTVs of similar size. LED TVs are mercury-free and lead free, which adds another degree of environmental friendliness and safety compared with other currently available backlight technologies.
The Samsung Series 8000 55-inch TV, 55B8000, retails at Rs 3,00,000.
The Series 7000 55B7000 (55 inches) costs Rs 2,75,000; the 46B7000 (46 inches) is available for Rs 1,80,000; and the 40B7000 (40 inches) costs Rs 1,40,000.
The Series 6000 also has three sets, with the 46B6000 (46 inches) retailing at Rs 1,50,000; the 40B6000 (40 inches) coming for Rs 1,25,000; while the 32B6000 (32 inches) will set you back by Rs 69,990.