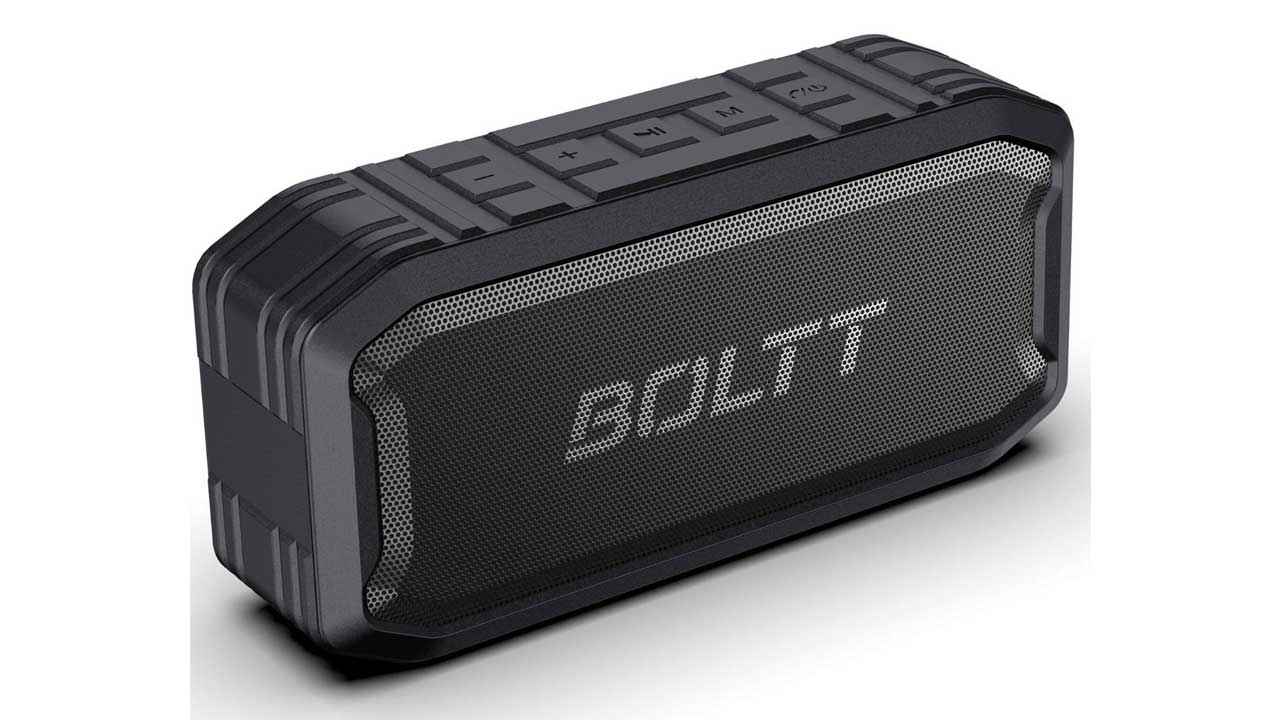 Having a good Bluetooth speaker handy can make everything from a day at the beach to a pool party or even a hiking camp better. But when it comes to choosing a good speaker for your outdoor needs, you need to make a choice of a device that can withstand extreme temperatures, is waterproof/water-resistant, and has great battery life. While there are a plethora of options available from a myriad of brands for outdoor speakers, here are our choices of some rugged Bluetooth speakers with good bass and sound performance to make your day out even better.
AOMAIS Go
The AOMAIS Go comes replete with adequate volume output for outdoor areas like a beach or a poolside party. The massive 8800 mAh battery can provide up to 30 hours of playback time and it reaches a full charge in 3 hours. The Go also doubles up as a USB charger for other devices to pull power from. The design of this rugged speaker makes it look like a tank and spells 'durability' all the way. The IPX7 waterproof rating makes it fully immersible in water up to 30 feet for 30 minutes. The dual bass radiators provide for a deeper bass response as well.
COMISO Waterproof Bluetooth Speaker
The dual drivers of 6W each mean the COMISO packs in a total of 12W output. Add to this the fact that this speaker supports TWS, which means you can link two COMISO speakers to achieve a true wireless stereo effect in which both speakers are playing the same music in sync. Even when the volume is cranked up to full-on these speakers, you can hear almost no distortion. The dual-passive bass radiators on the COMISO results in bass sounding deep and solid, making it an apt choice for hip-hop and EDM lovers. The 4400 mAh battery can last up to 30 hours on 2/3rd of its volume.
DemerBox
The Demerbox DB2 is a tough-looking yet great-sounding Bluetooth speaker that comes built into an extremely durable and rugged Pelican case that is 100% waterproof and crush-proof. The idea – you can use the case as storage for your valuables, smartphones, wallet, etc. when you are outdoors. The inside also has a charging port for your phone or other devices. The battery on this speaker lasts for up to 40 hours. It also hosts an audio system with Digital Signal Processing (DSP) which cranks out at a rather impressive 94 decibels. The sound is loud and crisp and does not sound distorted even at higher volumes.
Fire-Boltt Xplode 1500
The Boltt Xplode 1500 is a budget speaker covered with silicon on all sides so it is both weatherproof and waterproof (IPX7 rated), making it a handy companion on your outdoor trips. For a small speaker, it packs quite a punch in terms of volume. Along with the loud sound, it also delivers good bass and treble making listening to it a very pleasurable experience. If you connect two of these, you can fashion them into a TWS stereo surround system to enhance your enjoyment. Additional features include an in-built microphone, allowing you to answer calls, and dual connection, so you can connect both the laptop and your phone, are simply cherries on the cake.