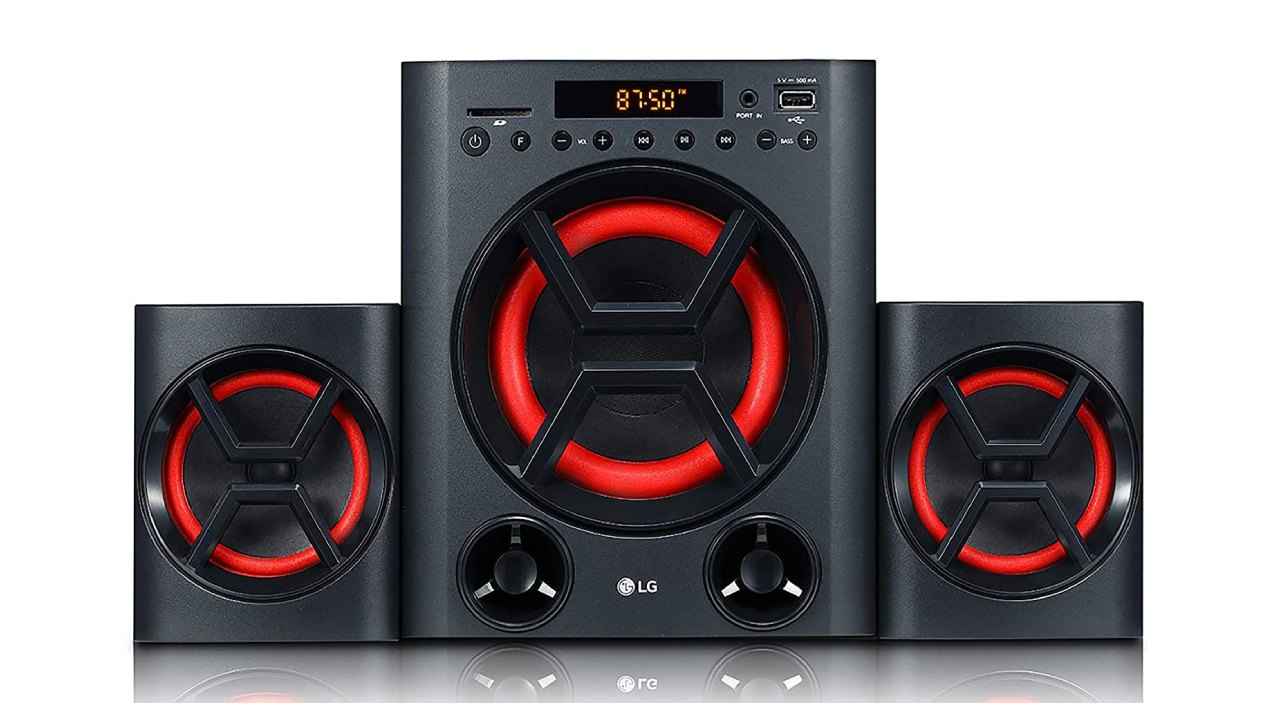 These days, televisions come with a range of audio capabilities, but the best and most immersive sound is the topmost criteria for some users. That's where a set of multimedia speakers for a home theatre system comes into play – to give you realistic, crisp, high-quality audio, be it for watching movies, TV shows, playing games or anything else. A set of speakers in various configurations are ideal for hooking up to your TV as they take your experience to the next level by providing immersive 3D audio. Since you get one main subwoofer, you can fine-tune your listening experience to your liking. So, if you're in the market to upgrade your home theatre system for a better and more enjoyable movie experience, then check out these multimedia speakers for your home theatre system.
Infinity (JBL) Hardrock 210 Deep Bass 2.1 Channel Multimedia Speaker
The HardRock 210 can change the vibe of your house depending on your mood. You can connect the 2.1 channel speaker to your TV, Laptop, smartphone, tablet or any other Bluetooth device. The wooden cabinet subwoofer is purpose-made to deliver thumpy beats that will make your music come to life. When watching content on your TV, or playing games, you will be immersed in the audio as the sound is produced by powerful drivers. With 3 inbuilt modes for movies, gaming and music, you will be treated to custom made music that suits your needs. The speaker can be operated with a remote from anywhere in your house.
Sony SA-D40 4.1 Channel Multimedia Speaker System with Bluetooth
Enjoy movies and TV programs with family along with powerful bass and wider sound effect of these multimedia speakers from Sony – the SA-D40. This stylish 80W 4.1 channel multimedia speaker features Bluetooth connectivity along with USB and audio inputs so that you can enjoy your favourite songs across your devices with enhanced sound. The speakers promise great quality audio when watching movies, playing games or just listening to music. Incidentally, there's just one cable required to connect it, and the whole speaker system is easy to control by the simple and user-friendly remote control. The 4.1 channel gives it an impressive sound stage.
Philips MMS8085B/94 2.1 Channel Convertible Multimedia Speaker System
These speakers are perfect for playing music, games, movies and online videos on both TVs via any kinds of computers. The speaker uses a bass reflex speaker system that delivers powerful, deeper bass, a must-have when listening to music of any kind or playing games. While watching movies, this makes for immersive experiences, no matter what you're watching. Overall, the speakers are designed for style and look as good as they sound. The 2.1 channel system is quite a lot of value for your money and will go a long way in improving your home theatre setup experience.
LG – LK72B Boom Blastic Multimedia Speakers
Here's a set of multimedia speakers that promise deeper bass and sharper vocals made possible with Bass Blast+. It features advanced EQ settings for perfect, customised sound, exactly as you want it. You can easily connect your mobile devices via Bluetooth and enjoy your favourite music on all your wireless devices. If you like, you can also separately control the bass level of the music for a personalised listening experience. To help you save on operating costs in the long run, after 15 minutes, this unit will turn itself off to save electricity if the main unit is not connected to an external device.
Philips SPA8000B/94 5.1 Channel Multimedia Speakers System
Here's a 5.1 channel speaker built to give you an immersive sound experience, no matter what you're watching. The 5 satellite speakers can be placed all around your room for dynamic sound output, which is not just loud but also crystal clear. Thanks to Bluetooth connectivity, you can connect it to all your wireless devices and get the party going whenever you want. Paired with movies and interactive content, the speakers won't let you down. If sound customisation is your thing, these speakers have got that covered as well. These speakers are a great addition to your home theatre setup if it's in much need of an overhaul.
F&D F3800X 80W 5.1 Bluetooth Multimedia Speaker
This speaker from F&D comes with a bright white LED display that allows you to see what is playing and also view the controls. It delivers an automatic multi-coloured LED that compliments your mood. It comes with a 3-inch full-range driver with a 5.25-inch bass driver for the subwoofer giving you a crystal clear sound. It contains the 4.0 version of Bluetooth, which ranges up to 15 metres. The speaker comes with a fully functional remote control, which is handy to control settings when watching movies. The 5.1 sound channel system will immerse you in whatever you're watching or listening to,