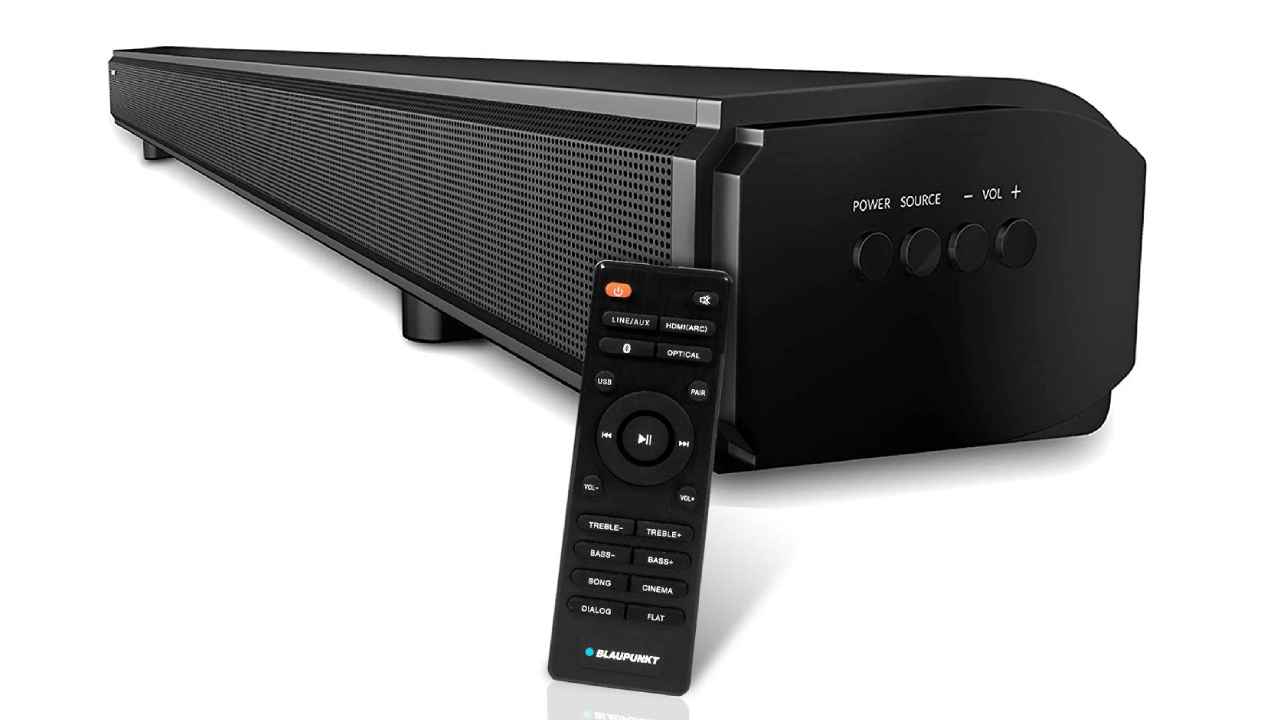 While a great TV forms the core of a great home entertainment system, TVs are often found lacking in the audio department. However, adding a full-scale 5.1 home theatre system might not be the right solution for everyone. This is especially true for homes with space constraints. Soundbars offer a great solution for a simple setup with a clean aesthetic. To make the most of the available space, you should go for models that feature a built-in subwoofer. This keeps your home entertainment system compact without compromising on bass response. Here are some options available on Amazon that feature a built-in subwoofer, in addition to a great combination of features and specifications.
Blaupunkt SBA01
The combination of dual 3-inch built-in subwoofers and dual 2-inch full-range drivers gives you a great audio experience on the Blaupunkt SBA01. It features a combined audio output power of 100W, creating an impactful soundscape for your favourite movies, shows and music. With a full-function remote, you can control the modes, inputs and more from the comfort of your seat for this soundbar. An LED display is included for clear visibility of important information like volume levels, operating mode and more. With a wide range of input ports like HDMI, USB and Optical, you can connect all your devices to this soundbar for enhanced audio.
YAMAHA SR-B20A
The SR-B20A from Yamaha features virtual 3D surround and DTS virtual:X technology for an immersive audio delivery. The model supports tabletop placement and wall mounting, allowing you to set it up exactly in the way that suits your entertainment system. With the Sound Bar Remote App for your smartphone, you can modify the sound modes, volume more conveniently. Its HDMI ARC support lets you use your TV's remote control to operate the soundbar as well. The model also features the Clear Voice technology that brings dialogues to the forefront and lets you listen to every word clearly.
boAt AAVANTE Bar 1190
With 90W RMS output backed by dual built-in subwoofers, you'll feel every beat and tune clearly on the boAt Aavante Bar 1190. Music, Movie, 3D and News – you can customise the audio delivery with a variety of equaliser modes for an optimised sound experience. Support for Dolby Digital audio helps you experience high-end sound on the model with supported content. To make wireless connections better, the Aavante Bar 1190 uses Bluetooth 5.0 for reliable pairing over larger distances. The model features a sleek and premium finish that can upgrade the style quotient of your home entertainment setup.
Yamaha SR-C20A
At just 60cm wide, the Yamaha SR-C20A saves space in your setup without compromising on impact. Virtual surround technology simulates an immersive experience for your favourite movies and shows. The dedicated Gaming mode on the soundbar enhances the audio so that you can listen to every move and action. With easy Bluetooth pairing, you can use it directly with your smartphone for your favourite music, podcasts and more. To improve the clarity of dialogue and speech, this model comes with the Clear Voice technology from Yamaha. At just 1.8kg, the speaker is highly portable and can be moved between rooms easily whenever needed.