The zenPad from Enso is another tablet launched in 2010, the 'Year of the Tablet'. Competing with big shots and small shots alike, Enso truly shows us how wide open the tablet market really is, with its 5-inch 800x400 resolution screen (LED backlit restive touchscreen) tablet that runs on Android 1.6 and Samsung's S3C6410 667MHz processor, and is priced at an amazing $155 (shipping now - check out eBay listings here).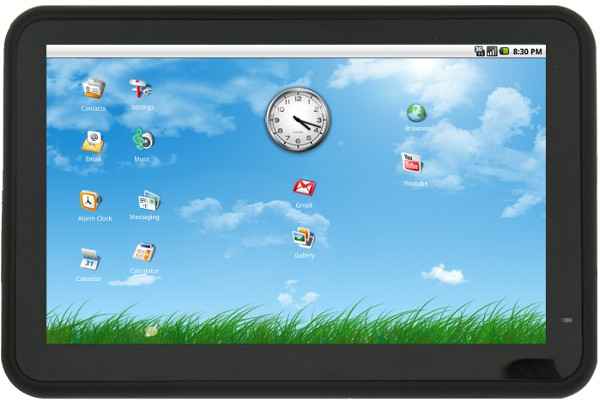 Very tranquil, very zen...
Other specifications of the zenPad from Enso include 1 GB embedded flash drive with 8GB of storage (on microSD) that is expandable to 32GB, 256MB DDR, optional GPS (for $25 more), WiFi 802.11b/g/n module, external 3G adapter ($35 more), digital compass, micro USB port, 3.5mm headphone jack, built-in speaker, 2000 mAh battery with 6 hours battery life, and a total weight of 185 grams.
The zenPad supports the following video formats: MP4, AVI, WMV, DIVx, and Flash. It can be charged via power adapter or USB cable. Those of you worried that the product is shipping with Android 1.6 and not 2.1 don't have to, as "upgrades to Android 2.x will be available within 1 month" according to Enso. While the product does not have an accelerometer, it will apparently achieve a similar effect with its "software controlled portrait mode". The PMP or MID also enjoys access to the Android Marketplace. The fully maxxed out version of the zenPad ships for $210, including GPS and 3G.
Check out a video demonstration of the zenPad below.