After introducing Dolby Atmos in cinemas, Dolby brings the Atmos technology to homes.
With the launch of its new office in Mumbai, Dolby demoed its Atmos at Home technology for the first time in India. After pioneering Dolby Stereo Sound and Dolby Surround Sound, the Dolby Atmos is the next upgrade to the way we experience sound in theatres and now soon at our homes. Pankaj Kedia, Country Manager, Dolby Laboratories, India and Mahesh Sundaram, Regional VP, APAC, Dolby Laboratories talked about what the technology was and what are they planning ahead.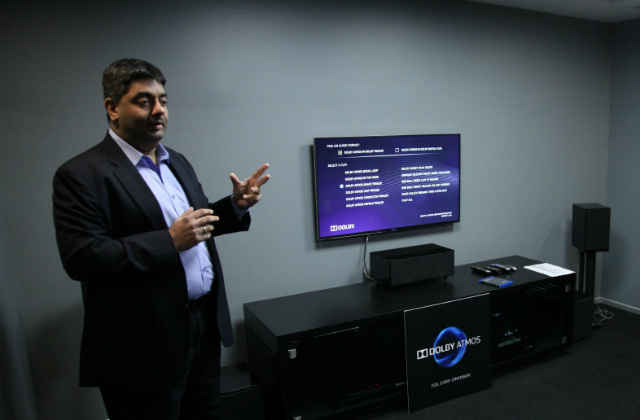 Mr. Mahesh Sundaram, Regional Vice President, APAC, Dolby Laboratories, presenting Dolby Atmos at Home
The existing stereo and 5.1 surround sound systems could address only the sound going to the channels, but the Dolby Atmos audio format has the ability to control the sound on all the speakers individually. This way, particular sounds would only be heard through certain speakers and not all of them. Breaking the concept of Audio Channels, the Atmos brings in the concept of Audio Objects, so that certain sounds can be addressed to only specific areas of the room. Dolby Atmos also adds speakers above your head, which give out discrete overhead sounds and not the sounds from the front or rear speakers. So when there's thunder and lightning, you will get the sweeps of sound from speaker to speaker above your head.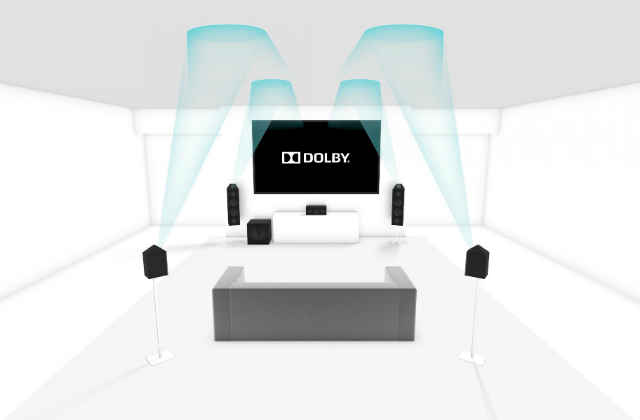 Dolby Atmos at Home setup
To get Dolby Atmos at Home, your existing speaker systems can be upgraded using an Atmos decoder and additional ceiling speakers or Atmos enabled speakers. Any Blu-ray player would do and the Atmos decoder works only through HDMI v1.4. The Atmos enabled speakers come in two variations, integrated upward firing speakers and add-on upward firing speaker modules to be mounted on your existing speakers. The Atmos decoder or AV receiver would be priced around $1000 - $3000 (Rs. 61,000 - Rs. 1.84 lakhs approx.) and has to be bought individually from manufacturers like Yamaha, Onkyo, Pioneer and others. The setup for Dolby Atmos at Home will start at the basic 2.0 (being backward compatible), including two front speakers without any ceiling or upward firing speakers and go up to a current max setup of 24.1.10, including 24 speakers, one subwoofer and 10 ceiling or upward firing speakers (i.e. 34 channels).
Dolby Atmos in theatres was introduced a couple of years back in India with Life of Pi, and we saw films like Dhoom 3, Madras Café, Bhaag Milkha Bhaag, Mary Kom and others adopting Atmos. Dolby plans to set up around 75 Dolby Atmos enabled theatres by the end of the year. Movies equipped with Atmos will soon be coming to Blu-ray, Transformers: Age of Extinction being announced as the first one to be releasing in Dolby Atmos Blu-ray. Shemaroo Entertainment Ltd. also released Mary Kom on October 15 in Blu-ray featuring Dolby Atmos. The technology is also targeted for TV and streaming services, including sports and music content. We later had a chat with Ashim Mathur, Head of Marketing, Dolby India, and enquired about support for games, and he said that consoles would be the first platform to get Atmos supported games and the PC would get support subsequently.