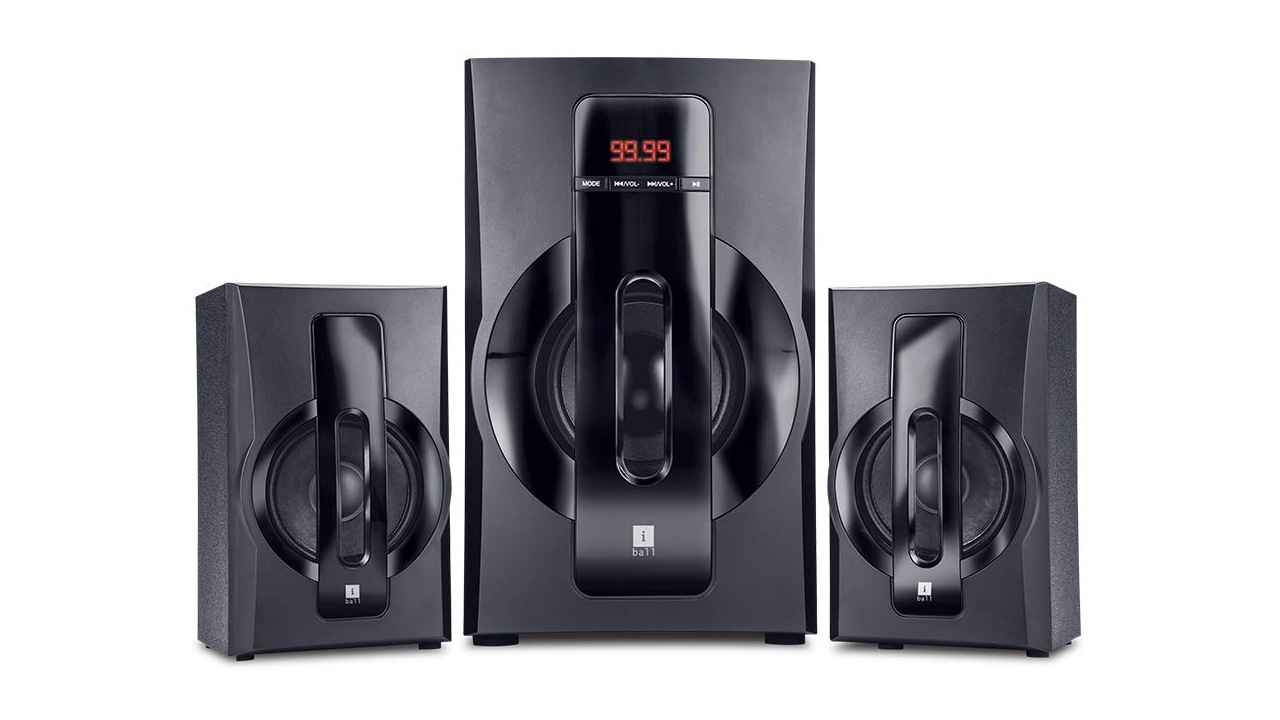 If you've got a high-end PC, it is quite vital to have a set of speakers which match the setup. There are a bunch of speakers for PCs that are tuned towards audiophiles and music lovers. These speakers come in different shapes and sizes, along with various functionality, which makes them quite versatile for the work that you've got to do. These speakers have quite a lot of features that make them excellent for the average PC user. So, if you're looking for a good affordable speaker for yourself, check out some of these options on Amazon.
Zebronics Zeb-Warrior
If you've got a good PC setup, you've got to complement it with an impressive sound system. The Zebronics Zeb-Warrior is a low budget, USB 2.0 powered speaker with sound quality to satisfy audiophiles and music lovers across all genres. These speakers are stylish in design, which makes them a good addition to your desktop table and offer good sound quality through their 52mm audio drivers and 10 watts total sound output. This means that they can get loud while maintaining the audio quality. These speakers are not just good for music listening but also keep audio crisp when watching movies so you don't miss out on a single dialogue or detail.
Krisons Eternity Bluetooth Laptop/Desktop Speaker
Here's a value for money option in the form of the Krisons Eternity speaker. It comes with a subwoofer and two satellite speakers so that you can have something of a surround sound system in your own desktop space. Incidentally, the Bluetooth connection also means that you can hook it up to your tablet, phone or laptop if you want to play multimedia from that. The front panel of the subwoofer gives you a range of controls, such as changing sound output levels for mids, bass, treble, and other things, including tuning the volume. If you don't want to reach all the way to the subwoofer to do that, you can just use the included remote, which is quite handy.
F&D F203G 11W 2.1 Multimedia Speaker System
Here's a set of speakers with a subwoofer and two satellite speakers built to handle multimedia- that includes TV shows, movies, games, music, audio files and lots more. This is one of the most versatile sound systems for the price and the use case. They offer impressive sound output with the help of 11 watts total sound output, which keeps them loud as well as clear. The subwoofer itself has 25W output for maximum bass and loud volume. For having immersive experiences while consuming multimedia, these speakers will get you in the heart of the content. These speakers are ideal for your high-end gaming system if you want to try out something new.
iBall Tarang Lion BT Exclusive – 2.1 Channel Multimedia Speakers
This set of 2.1 speakers from iBall is a bit more premium looking and offers impressive sound output too. Music listeners will love the dual-channel output, which makes for impeccable left and right sound distinction. The speakers have a dynamic subwoofer with powerful bass, and the whole system can set up wirelessly using Bluetooth. If you want to keep it in a place and a dedicated device, you can, of course, set up a wired connection. There's also a remote control with direct track selection, making it quite useful. It provides 40 Watts powerful RMS, which can continuously provide high-quality audio.
Creative Pebble Plus 2.1 USB-Powered Desktop Speakers
The Creative Pebble Plus features a standalone 4" down-firing subwoofer for impressive power and depth in sound. It has easy volume controls, conveniently located at the front of the speakers for easy and hassle-free access. The drivers are angled perfectly at 45° to ensure that the sound reaches you. These speakers are USB powered for extra convenience and can connect to devices via a universal 3.5mm AUX-in cable. The Pebble Plus eliminates the need for a wall socket while doubling up on bass with its external subwoofer. It also has a high gain mode which increases its power output to 8W RMS for stronger bass and room-filling audio.