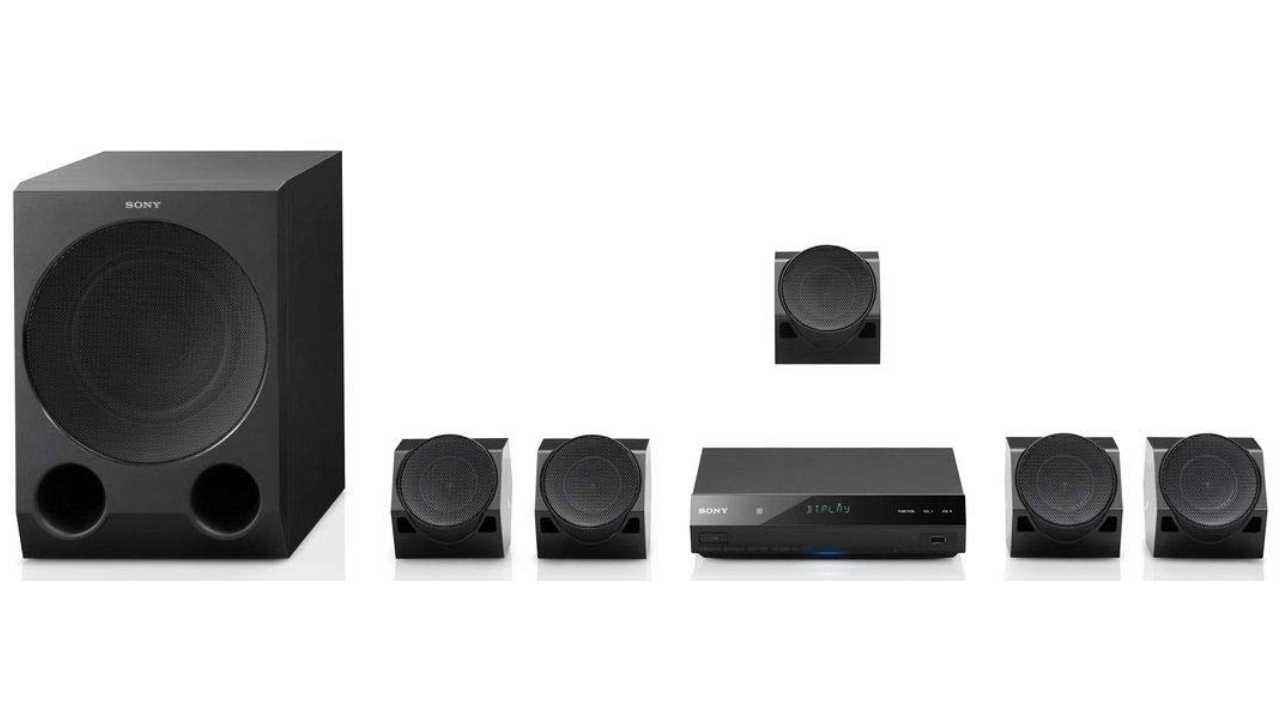 While building their home theatre systems, people end up buying a number of units including the speakers, subwoofers, amplifier or a receiver and much more. However, if you are looking for a slightly compact home theatre system, what you can do is go for self-powered speakers that can function without an amplifier. This saves you a lot of space as each speaker comes with its own system of sound amplification. You should ideally go for 5.1ch home theatre speakers in this case as the five-point system should be good enough to give you that theatre experience without any amplifiers. The following are some of the top speakers of this kind that you should consider buying.
Sony HT-RT40
Here is a 5.1-ch home theatre speaker system from Sony with an aesthetically pleasing design, which should blend with the interior décor of your house perfectly. The subwoofer and the soundbar kept at the front should deliver some clarity and the punchy bass in the sound output. It has two tallboy rear speakers, which you can keep on the opposite side of the TV to enjoy a surround sound experience. Such a system should help you enjoy a good listening experience without the need for an amplifier. Furthermore, you can seamlessly connect your TV or other smart devices to this system using Bluetooth or NFC, which is ideal for those who want to have a clean wireless setup. Finally, it supports the HDMI ARC connectivity option, thus enabling you to enjoy high-quality content with Dolby Atmos or DTS:X as well.
F&D F3800X 5.1 Channel Multimedia Bluetooth Speakers
If you are looking for budget-friendly home theatre speakers without an amplifier, then these 5.1ch multimedia Bluetooth speakers from F&D should be ideal for you as they offer a lot of features. They have 5.25-inch drivers for the sub-woofer and a 3-inch full-range driver for satellites to give you a good sound output. You can easily connect the speakers to your TV or smart device wirelessly through 4.0 Bluetooth. The Bluetooth connectivity range goes up to 15 meters, according to the brand. The main speaker comes with a white LED display for volume levels and other such information. Furthermore, you also get an innovative multi-colour LED effect to improve your overall experience. Do keep in mind that you get uninterrupted FM radio output thanks to the PLL technology, giving you access to more than 100 channels.
Sony HT-IV300
This 5.1ch home theatre speaker system from Sony delivers a compelling sound output of 1000W (RMS). Do not get fooled by the small sizes of the speakers of this system, as they combine with the subwoofer to deliver a sound output that should be good enough to fill a big room. Thanks to such high levels of sound output, you would not even require an extra amplifier to get a real theatre-like experience. It supports both DTH set-top boxes and Blu Ray players, enabling you to connect it with your TV or even to your video player. Finally, you can connect your smartphone to the speaker system wirelessly, by using any of the compatible connectivity options such as Bluetooth or NFC.
JBL Bar 5.1 Powerful 4K UHD Soundbar with Wireless Surround Speakers
If you are looking for a 5.1ch sound output without multiple speakers, then the JBL Bar is an ideal choice for you as it comes with a soundbar with two detachable speakers at each end along with a subwoofer. It comes with JBL Surround Sound, which when combined with the subwoofer, should produce great bass with superior sound quality. With the wireless connectivity option, you can now have a hassle-free experience with this set of speakers. With eight woofers set up in the soundbar, you get a total output of 510W, which is great considering how little space this setup will take. Since it comes with the DOLBY Digital DTS system in it, you should be able to get a great listening experience.