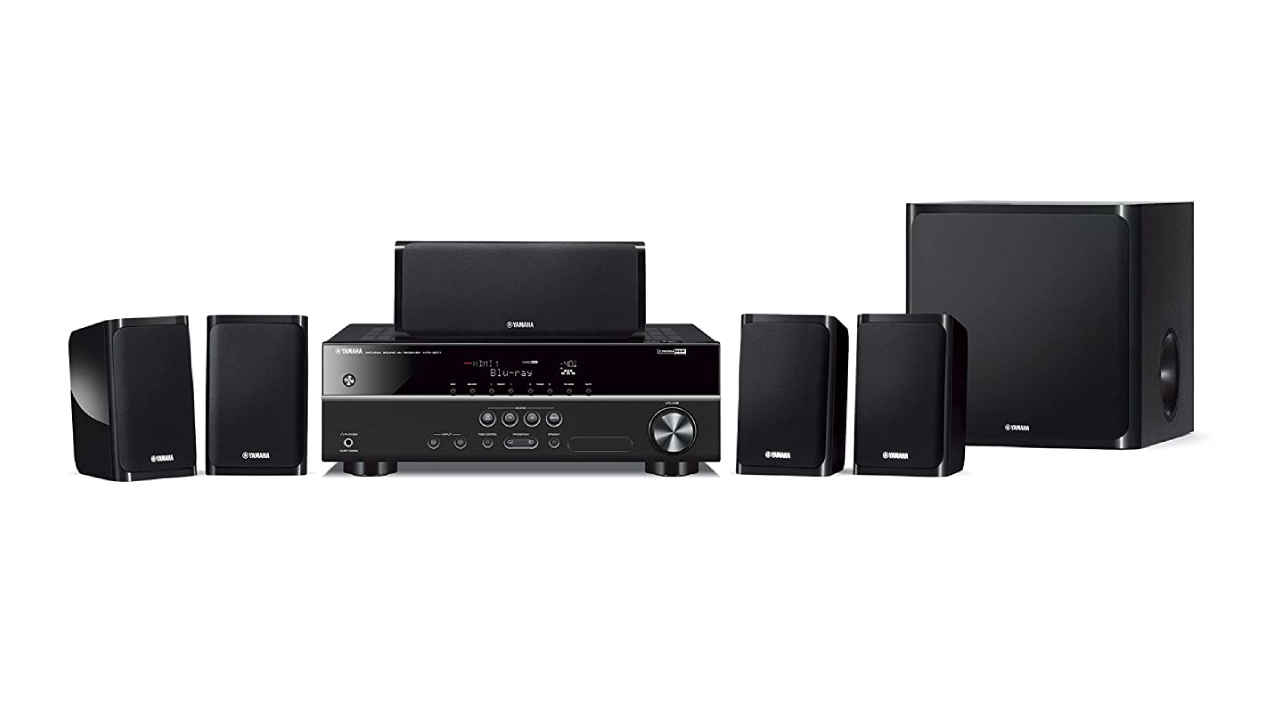 When you're building your home cinema's audio setup, you need to look for the best experience possible. This experience should combine ease-of-use with high-quality audio – something that is achieved with 5.1 speaker home theatre system kits that do not need additional amplifiers. While most models achieve this by using active speakers, some even ship with an AV receiver bundled that also provides amplification for passive speakers. With such a setup, you skip the hassle of multiple wires as well as all the research that's needed to pick the right third party amplifier. For the best experience, your home theatre setup should support HDMI ARC and Optical inputs for easy connectivity with your TV. Dolby Digital compatibility is also good to have since it can ensure enhanced immersion with compatible content. Here are some options available on Amazon that promise a great entertainment experience with their unique features and powerful specifications.
Sony HT-S500RF
With 1000W of acoustic output, the Sony HT-S500RF produces cinematic audio in your living room. The 5.1 configuration is provided by three channels in the soundbar, two discrete rear channels and a separate soundbar. Bluetooth connectivity allows you to play content wirelessly on the HT-S500RF from your smartphone, tablet and other Bluetooth enabled devices. With Dolby Digital and DTS Surround Sound, you can experience enhanced surround audio with compatible movies and music. All the cables run into the subwoofer which also supports HDMI ARC and Optical-In for a clean and manageable setup. Additionally, a USB port lets you use your USB storage devices for playback as well.
Yamaha YHT-1840
The Yamaha YHT-1840 home theatre system includes its own AV receiver which maximises your connectivity options. With a 4K 60fps HDMI passthrough, you can connect a high-resolution source without any degradation. It also features HDMI ARC making your setup more manageable with fewer wires. With BT.2020 pass-through and HDR support, it prevents any degradation to the visual data that the TV receives. The built-in amplification on the AV receiver powers the YHT-1840's passive speakers that are compact and easier to place. Since it allows Optical and Coaxial audio input, you can also connect the source to the TV directly. Even when all the speakers are placed in front of you, the Virtual Cinema Front feature can help simulate a surround sound experience.
Vizio SB3651-F6
The wireless subwoofer on the Vizio SB3651-F6 5.1 home theatre system is already paired with the soundbar out of the box and only needs to be turned on for a successful connection. The included remote control makes it easier to operate this model. With HDMI ARC, optical and coaxial input options, you can choose your connectivity according to your setup. The soundbar features wall-mount compatibility, making it a good companion for any wall-mounted TV. Support for Dolby Digital and DTS Virtual X ensures high-quality surround sound for your favourite content. The 5.2-inch driver on the subwoofer is designed to provide impactful bass in the 50Hz to 100Hz range.
JBL Bar 5.1
The soundbar on the JBL Bar 5.1 home theatre system features detachable battery-powered satellite speakers that provide a truly wireless audio experience. Once separated, these satellites can keep going for ten hours of listening before they need to be connected to the soundbar again for charging. Its wireless 10-inch subwoofer enables convenient placement without compromising on bass quality. With three HDMI inputs and one HDMI output with ARC, you can connect all of your HDMI devices together without needing to pick and choose. JBL's SoundShift technology lets you switch between your TV and the Bluetooth input from your phone seamlessly. With a lower frequency limit of 35Hz, the subwoofer can produce deep, powerful bass for your favourite tracks.