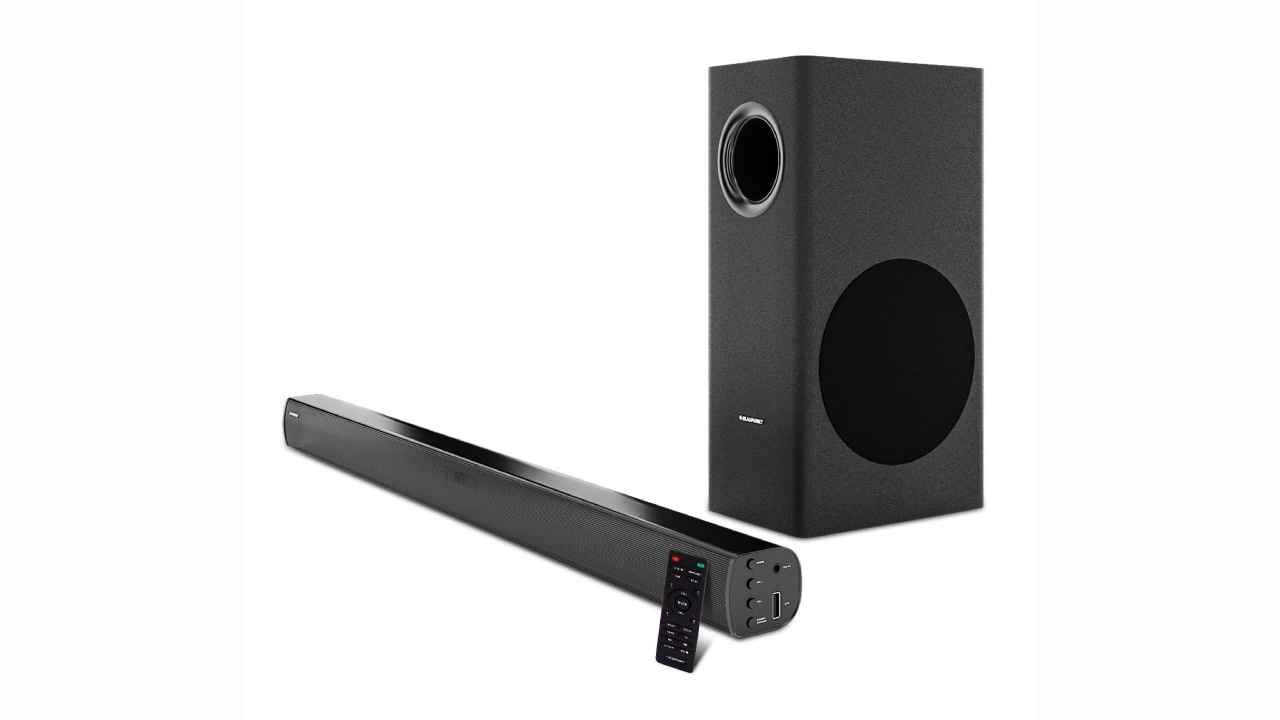 Let's face facts, while many TV companies have worked very hard at improving their audio quality, they still also have to make their TVs as thin as possible, which means they are forced to compromise on sound just by the principles of physics alone. As much as we'd like window shaking bass from something that's barely a few centimetres thick, it's not happening anytime soon. Of course, most of us don't want large speakers in our living rooms either just to get a good sound. A happy middle path which is the most pleasing to the eyes and ears both is the device category called soundbars, and we're listing a few here that you should most certainly consider buying to enhance your TV's terrible sound output.
boAt Aavante Bar 2050
The boAT Aavante Bar 2050 produces premium HD quality boAt Signature sound through a 160W subwoofer and soundbar. It is perfect for watching movies. It creates a balanced sound and deep bass every time you power it on. The soundbar is extremely sleek and elegant with a premium finish that will fit right in with your living room and flat screen TV. You can control the soundbar with the help of a master remote controller. The soundbar connects wirelessly using Bluetooth 5.0, or can still be hooked up using good old wires – your choice.
CloudWalker BÜRST E3000
CloudWalker BÜRST E3000 comes with a 100W external subwoofer that produces powerful sound output with an impactful bass. This soundbar is your perfect companion for your parties as it has 11 different LED light effects, including alternating ones that are tuned as per the music. The soundbar can be connected to any device through a plethora of connectivity options such as Bluetooth 5.0, AUX, Line-in, and Optical ports. Just plug it in and party!
Blaupunkt SBW100 Wired Soundbar
The 2.1 channel Blaupunkt soundbar comes with a wired subwoofer that supports almost every known input mode such as Bluetooth, USB, AUX, and HDMI-ARC. The Blaupunkt EQ mode lets you choose different music modes, such as music, movie, news, and 3D based on the type of program you are viewing. This soundbar, with its exquisite European design is the perfect addition to your home when wall-mounted along with your television. And with 120 watts of sound output, you're certainly not going to be maxing out the volume unless you want to pick a fight with the neighbours!
Mulo Arena 5000
This powerful 2.1 channel soundbar from the house of Mulo guarantees powerful and moving sound with the help of a wired subwoofer that produces 45W RMS output. The soundbar can be connected via Bluetooth 4.2, AUX, and USB. It also comes with an AUX to RCA and an AUX to AUX cable to help you connect with any device you own. There is a powerful remote control that helps you to control the volume, bass, and treble from any corner of your room. Choose between multiple EQ modes such as movie, music, news, and 3D to customize your listening experience based on what you are watching. The soundbar supports not only tabletop installation but also wall mount installation, as it comes with two wall mount EVA pads and screws.